3 Keys to Launching an Effective Sports Drink in a Highly Competitive Market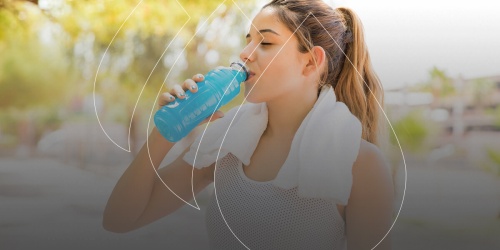 With sports and energy drinks taking up entire aisles at the grocery store, you might think the industry has no more room. The sports drink market is competitive, but it's still growing quickly and offers ample opportunities for new and existing brands to reach more buyers.
Like most sectors, the sports drink trade has unique challenges. You must understand its scope to enter this market and make a standout product. We've outlined some essential elements and sports drink market trends to consider as you prepare for a product launch.
What Makes a Beverage a Sports Drink?
The sports drink industry offers a tremendous range of options. In addition to water as a base ingredient, sports drinks typically contain carbohydrates and electrolytes. Carbs such as sugar provide readily available fuel for your body, while electrolytes help improve cellular communication to regulate fluid movement, chemical reactions and other bodily processes.
Some common electrolytes in sports drinks include sodium, magnesium, potassium and calcium. Each serves different purposes, and sports drinks' electrolyte content and recipes can vary widely. Traditionally, athletes didn't have much choice, but the market's expansion means they can now choose beverages tailored to different goals, such as endurance running or muscle recovery.
The sports drink category can include brightly colored sugary beverages for intense athletes and hydration boosters to support a low-stress workout. Many sports drinks now contain additional ingredients like:
Micronutrients, such as vitamins and minerals
Caffeine
Herbs
Protein
Amino acids
Some people classify unique types of water, such as coconut and alkaline water, as sports drinks. You can even find sports beverages in powder or gel form. Even if your idea is a little nontraditional, you'll find plenty of room in this growing market.
NSF "Certified for Sport" Accreditation
Growing concerns about banned substances in sports supplements has more brand owners choosing to have their functional beverages "Certified for Sport" by the National Sanitation Foundation (NSF). Athletes and everyday consumers are looking for supplements they can trust as clean with verifiable claims.
The NSF, founded in 1944, is an accredited, independent third-party certification organization that tests products to verify they meet public health and safety standards.
NSF International's Certified for Sport® program tests products for more than 200 substances that are banned by the World Anti-Doping Agency and the United States Anti-Doping Agency. A supplement product that bears the Certified for Sport seal ensures that the product contains exactly what the label claims it does, in the amounts listed, and nothing else.
Without the NSF seal on a product label, many professional teams will not allow products into their clubhouses or training rooms.
3 Pivotal Factors in Launching a Sports Drink
If you're considering entering the sports beverage industry, you must be ready for a highly competitive landscape. Below are three crucial considerations that can help you stand out from competitors.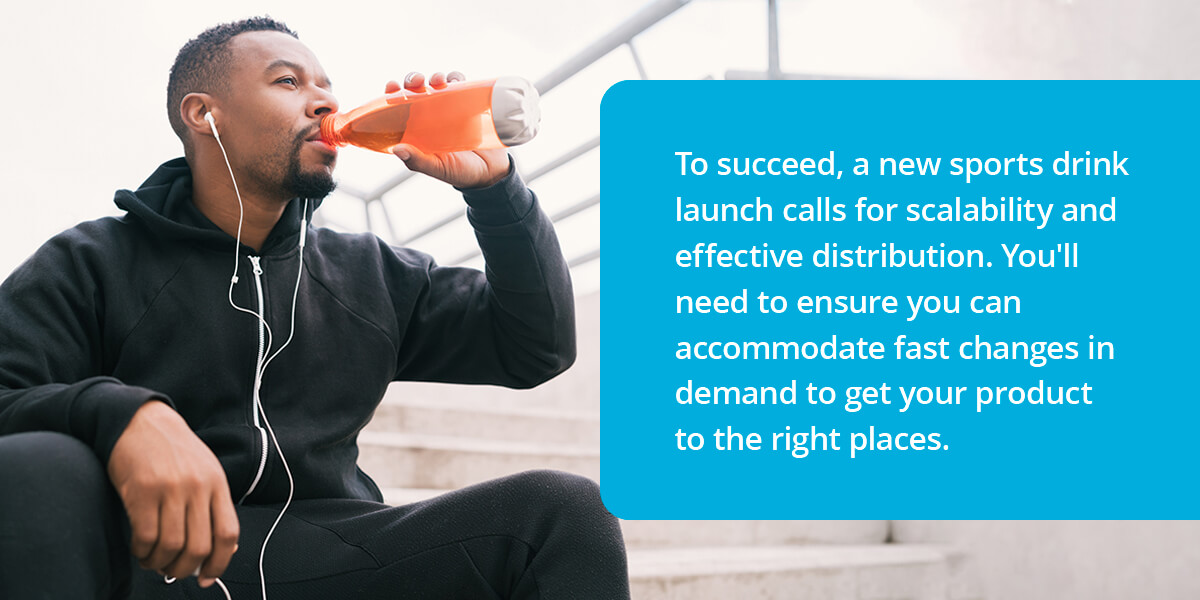 1. Scalability
The sports drink market size is booming, partly thanks to an increased interest in health and wellness. Consumers are exercising more and looking for healthier food and drink options. Using famous athletes as spokespeople is even driving purchases and overall athleticism in developing countries. By 2030, analysts expect the industry to hit $36.89 billion, with a compound annual growth rate of 4.08% between 2021 and 2030.
To succeed, a new sports drink launch calls for scalability and effective distribution. You'll need to ensure you can accommodate fast changes in demand to get your product to the right places. Though this rapid growth gives an advantage to larger companies that can accommodate it, the industry still offers space to capable startups and new brands, especially those that can fill a niche audience need.
One way to prepare for demand is to work with a team of beverage distribution professionals who can help you partner with distribution and logistics providers.
2. Diverse Applications
You already know how quickly the sports drink category is expanding — even traditional beverages frequently get makeovers for specific purposes. You can now find zero-calorie, zero-sugar and maximum-hydration versions of classic products on the shelves. Sports drink competitors can get a lot of mileage from different combinations of electrolytes and carbohydrates by targeting specific workouts or recovery.
But consumer demand doesn't stop there. The purpose of sports drinks has widened significantly from athletics and exercise to other purposes, like general health and wellness and illness recovery. For example, you could choose an electrolyte drink to help you get over the flu or a stomach bug. Some sports drinks focus more on providing vitamins and minerals than electrolytes. You might drink one as a tasty alternative to water to target your nutritional needs.
This array of options has opened less traditional avenues for brands to reach unique audiences and market sports drinks. Innovation has made the sports beverage category much more versatile.
3. Formulation
Since athletes use sports drinks for specific purposes, this market depends heavily on the beverage formulation. Athletes may look for particular ratios or combinations of electrolytes, and many people avoid ingredients like added sugar or artificial flavoring. The way different ingredients and processes come together can affect how beneficial they are to the consumer. For instance, some ingredients can prevent the absorption of others.
Here are some factors a drink formulation should address.
Absorption and digestion: Sports drinks generally aim to provide fast and easy absorption and digestion so athletes can refuel as quickly as possible. While all carbohydrates eventually turn into glucose, some take longer than others. A sports drink could include fast-metabolizing carbs during a workout or slow-metabolizing carbs for pre-workout support. You'll also need to ensure no ingredients inhibit the absorption of others. Finding the appropriate balance is a critical part of ensuring effectiveness.
Unwanted ingredients: Consider whether your drink will contain any potentially undesirable components, like artificial dyes, lactose or caffeine. Even if you don't plan to directly include these elements, they can end up in the drink in other ways. For example, whey protein concentrate contains lactose. Whey protein isolate has very little lactose, making it better for lactose-intolerant people. You may need to look for alternatives or adjust marketing tactics.
Appearance: Some ingredients can affect the drink's appearance, such as its clarity and color. Other ingredients might be prone to settling, requiring customers to shake the drink before use. Choosing the correct formulation is essential for achieving the ideal look.
Shelf stability: Of course, your sports beverage should have an appropriate shelf life, but as a functional drink, it must also perform well after storage and transit. Consider how external conditions like heat and vibrations will affect the product. For instance, whey protein becomes denatured after heat exposure, which makes it less soluble.
Drink formulation is simultaneously an art and a science, so working with professionals is always a wise idea.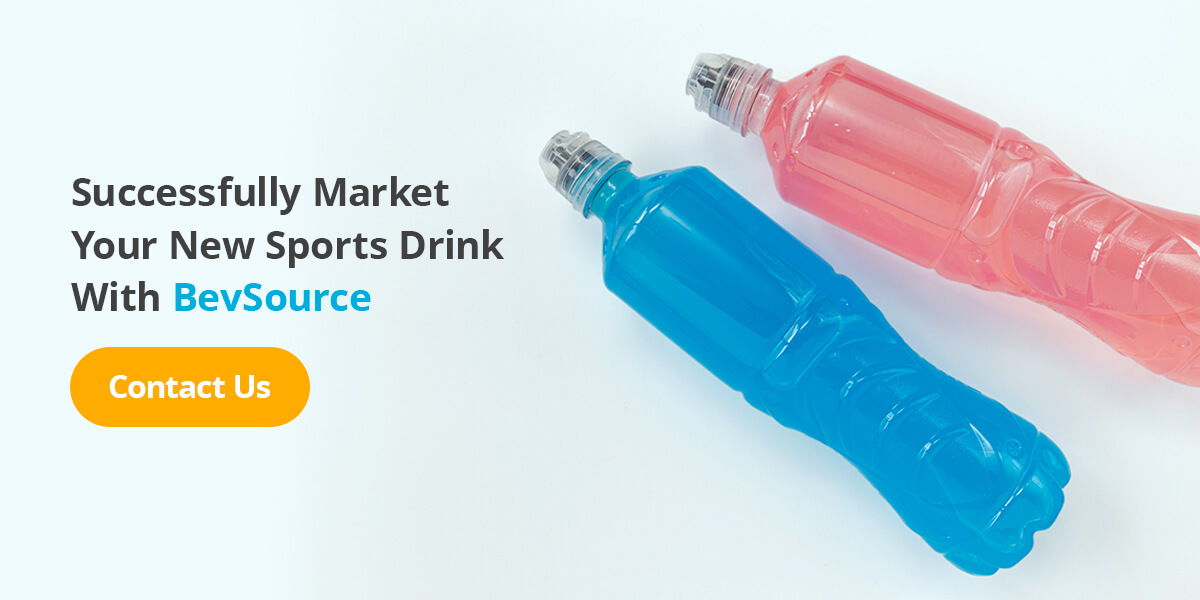 Successfully Develop Your New Sports Drink With BevSource
Whatever your sports drink looks like, a team of beverage experts can help you get it on the shelves with speed, efficiency and minimal risk. We've worked in the beverage space for over 20 years, with significant experience in the sports drink industry. Whether you want to start producing a new idea or expand your existing drink into untapped markets, our team can help with everything from concept to post-production demands. We offer unmatched industry expertise, supply chain networks and resources to help you scale, address challenges and reduce risk.
To see how BevSource can bring your sports drink idea to life, reach out to us today!