After years of working in the beverage industry, our founders wanted to transform the way that beverages are developed, produced, and delivered. They knew there had to be a better way than the trial-by-fire that most beverage innovators experienced.
BevSource started as Productions Services International (PSI) in a basement in 2002. Today, it is recognized as one of the industry's leading integrated providers of beverage development, production, sourcing, and logistics solutions to new and established beverage visionaries. Over the past 15 years, we have grown to over 40 employees, including 20+ beverage operations specialists who oversee the production of millions of cases of beverages per year.
We owe our success to our employees, our clients, partners, and industry friends. We would not be where we are today without them.
So, in honor of this milestone, we invited those people to help tell our story.
Our first client and friends for 15 years (and also our longest lasting clients), IWA International, came to us for help with their low-alcohol beer, produced here in the US and exported to Japan.
Mark Iwadare, Marketing Director for IWA International, said, "our favorite part of using BevSource is the ease in which a complicated task, such as creating a new label/brand, is carried out in a simplified manner. There is one dedicated representative running point. She has all the answers we need and gets back to us in a timely manner. We would recommend based on the results from using their services."
We have worked with Jamey Grosser, Founder and CEO of WG Brewing Company for years; from managing production for a line of energy drinks with a licensing deal with a large outdoor sporting equipment company to his new line of alcoholic soda line including Wild Ginger Ale, Wild Root, Wild Docta', and Wild Sit Russ.
Jamey knew us back when BevSource started: "The same skills that helped us choose a 2-person team in a basement in those early days have now grown BevSource into a unbelievable company with dozens of skilled and talented people. People cut from that same cloth who helped manage a complex business day to day, making it streamlined and uncomplicated. Everything BevSource said they would do all those years ago."
But before any of us were around, there was Gluek's, a Minnesota legendary beer created 160 years ago. Linda Rae Holcomb came to us to resurrect this legacy German beer. "I couldn't have done it without the expert advice and service that BevSource has provided. They have been my "one-stop-shop" for everything pre-production through production and beyond! The people are my favorite part about this company." Gluek Beer is another dream we're proud of helping make a reality.
We know beer. Our roots were in alcohol. Our President and COO got her start at the Minnesota Brewing Company, then the 7th largest brewery in the country. Now, BevSource works across all alcoholic and non-alcoholic beverage categories, from coffees and teas to kombucha to flavored malt beverages to functional drinks.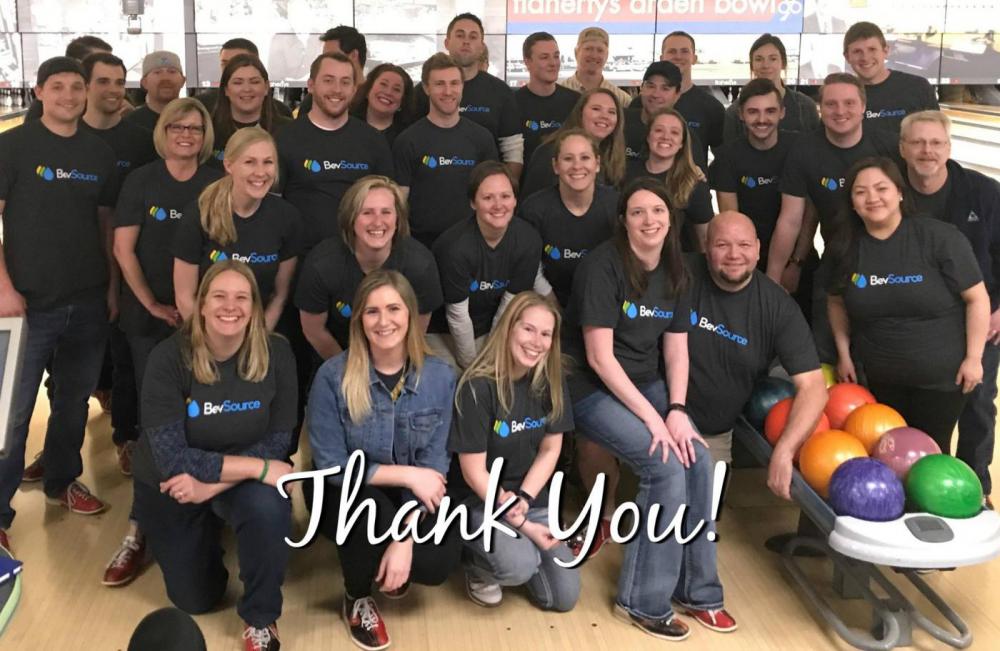 Kill Cliff, an energy and recovery beverage brand, has been growing with us since 2007. Over the years, we have supported that growth with production management and ingredient sourcing.
"The team at BevSource is by far the greatest asset of this organization. Not only do they know their business and provide directional support to their partners, but they work very well in joint effort with all aspects of the organization to deliver amazing service that attain my company's initiatives," says Jerry Barker, VP-Operations / IT / Customer Care at Kill Cliff. "I would absolutely recommend BevSource, not only because of the team they have assembled, but also because of their expertise and the network they utilize for accomplishing business goals. They truly are a value-add to any organization."
Barker goes on to say, "BevSource comes with a highly touted reputation in the beverage industry and showcases that with some of the customers for whom they provide incredible service. The people are genuine, professional and motivated, and their service offerings are amongst the top in the industry. They continue to search for ways to grow, adapt, and expand those offerings in order to provide an all-encompassing organization for your beverage business needs."
Expanding across categories has also meant developing a deep and committed partner network of flavor houses, contract manufacturers, ingredient & packaging suppliers, and collaborators. Having this network has been essential to helping bringing our clients' dreams to fruition.
One of our valuable partners is Bell Flavors, who has worked closely with us on a number of projects. "My favorite part of working with BevSource is watching a product go from concept to finished product through the expertise of the professionals at BevSource," notes Chip Ek, Account Executive at Bell Flavors. "They provide the resources an entrepreneur needs in order to enter the market place with a great product and compete with the huge Consumer Packaged Goods (CPG) companies. Throughout the years Bell Flavors and BevSource have joined forces to take a product concept and developed it into a great tasting product that can be mass produced at a competitive price."
"They provide the resources an entrepreneur needs in order to enter the market place with a great product."

Chip Ek, Account Executive at Bell Flavors.
We would not be where we are today without our amazing team. "It is truly an honor to have the greatest team on the planet working together to help our entrepreneurs start their own beverages," beams Janet Johanson, our President and COO.
Steve McCullough, BevSource's Executive Vice President of Business Development, has been part of our growth for many years. As a former VP of Operations for Mike's Hard Lemonade, he knows what it takes to develop, produce, and deliver great beverages to the market. "It has been a pleasure working with the leadership, employees, customers, and suppliers in an amazing culture at BevSource for the past 10 years," remarks McCullough. "It is truly a special organization that anyone in the beverage industry should know."
After coming to us for guidance starting two new sugar-based alcoholic drinks, Bob Walkenhorst, Owner/CEO of Vivify Beverages discovered "the people at BevSource are great - pleasant to work with, courteous to a fault (must be the Minnesota thing!) and responsive to all of our needs. In some cases, they know what we want or need before we do. All of these attributes are critical for a "first timer" like Vivify. BevSource takes care of all of the back office minutia and let us concentrate on the things we know best - sales and marketing."
In some cases, they know what we want or need before we do."
- Bob Walkenhorst, Owner/CEO of Vivify Beverages
Walkenhorst continues, "They take care of the most difficult and time consuming tasks, giving us the critical time we need to roll out new markets and implement sales and marketing plans for existing markets. Before I found BevSource, I tried working with another supplier. After eight months of frustration, I knew I needed to find a better solution. Fortunately, a good friend pointed me to BevSource."
This is why we exist. Our passion is to help dreams become reality. There is nothing more satisfying to our team and clients than seeing that first can or bottle come off the line. Thank you for being a part of the first 15 years of BevSource. We couldn't have done it without you. We're looking forward to the next 15!
MORE FROM OUR CUSTOMERS