Masq Fusions: Building A Better-for-You Alcoholic Beverage Brand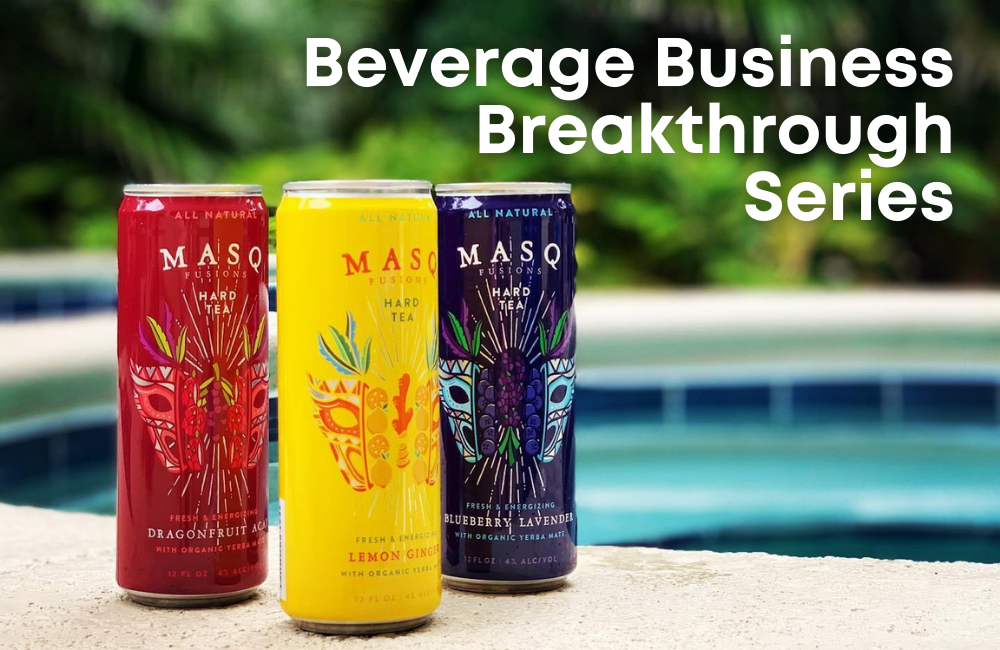 Few people understand the expansive breadth of alcoholic beverages on the market better than someone whose family is rooted in the alcohol wholesaling business. Yet, even after seeing all the innovation in beer, wine, liquor, and seltzer, Brad Parkes, whose father has been a wholesaler for Anheuser Busch for decades, identified a gap in the market. 
A Better Way to Drink 
Parkes and his wife enjoy having a few drinks on a Friday or Saturday night but are also striving to make healthier choices and feel better consistently. While they encountered more options that were "less bad," they didn't see many with ingredients that could make them better, like nutrients and antioxidants. 
"We believed that there could be a better way to drink," says Parkes. "We wanted a beverage that delivered a layer of health benefits on top of an enjoyable drinking experience." 
The desire for a better-for-you alcoholic beverage initiated the two-year journey that resulted in the creation of Masq Fusions, a line of healthful hard teas. 
Function and Flavor First 
Many beverages start with the alcoholic base at the center of the formula. For Masq, the first focus was on the blend of functional ingredients that would accompany the alcohol. Parkes and his team had two major criteria for selecting ingredients–quality and taste. They looked for botanicals that were well-researched with clear benefits and invested in developing a blend with an appealing flavor.   
Masq Fusion combines organic Yerba Mate (green-tea base) with fruit juice, herbal extract, monk fruit, blue agave nectar, and a proprietary adaptogen blend. The formula packs in a lot of healthful ingredients, but Parkes knew the beverage would have to sell on taste. 
The Ultimate Taste Test 
After getting positive reviews from the nearly 200 people who sampled the product, Parkes took Masq Fusions to his toughest customer–his dad. 
"When my dad, who has been in the alcohol industry for the past 50 years and drinks mostly Budweiser, said he liked the taste, we knew we had a winner," says Parkes. 
Parkes leveraged his industry connections to get his samples in front of brokers and distributors and got more positive reviews, propelling Masq to the next stage of development. 
Setting up for Success with a Pilot Run 
Finding production capacity for Masq proved to be more difficult than Parkes anticipated, so when someone suggested reaching out to BevSource and The Lab to explore a pilot run, Parkes jumped at the chance to start making his product. It's a decision he would come to appreciate even more as time went on. During the pilot run, the team uncovered several issues they were able to work through prior to their large-scale production run. 
"Those opportunities to work through bugs saved a lot of time and money in the long run," says Parkes. 
The pilot run not only helped smooth out the production side for Masq; it strengthened the
procurement plan as well. Working with The Lab, Masq coordinated a long list of ingredients to show up on-time, in the right spot for production. 
"With a beverage like Masq, there are a lot of moving parts," says Parkes. "The work we did during the pilot run allowed us to get through our first production run without any hiccups." 
Stand-out Sampling Strategy 
In addition to preparing for full-scale production, Masq used their pilot run to get shelf-ready samples in front of potential distribution and retail partners. As someone familiar with the sea of products distributors have to wade through, Parkes knew that delivering a quality sampling experience would help Masq stand out. 
"Putting our finished products in front of distributors and retailers helped us put our best foot forward," says Parkes. "They could feel the quality of the label, and see the presentation of the 4-pack, putting them one step closer to picturing it on shelves and in customers' carts."   
Balancing Flexibility and Growth 
Launching during a pandemic has forced Masq to continually re-examine and adjust their plans. The first shipments of Masq Fusions are headed for the Southeast, where there are fewer shutdowns and more opportunities for distributors to move products. Masq uses their inside knowledge of distributors to pitch their product and find the distributors with the best potential to position and sell Masq to the right retailers. 
"Our price point and positioning make Masq a great fit for chain stores like Target, and Whole Foods, says Parkes. "We're gearing up to help those outlets be ready with Masq Fusions for their spring sets." 
If there's one piece of advice Parkes would give to aspiring beverage entrepreneurs, it is to favor taking action above overthinking. 
"You can sit with an idea for a long time," says Parkes, "But eventually, you gotta pull the trigger. Just decide if you're going to do it or not."
Masq Fusions is committed and poised to share their formula for a "better way to drink"  with the world.