Cans 101: Seven Things To Know Before Your Beverage Production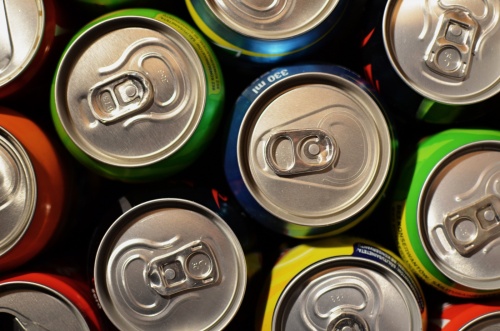 By Tim Matheson, Director of Purchasing, BevSource
Aluminum cans are gaining ground as one of the most popular packaging choices for new beverages. The global aluminum cans market is expected to generate around USD $48.15 billion by 2025, growing at a compound annual growth rate (CAGR) of around 2.9% between 2019 and 2025. With more consumer demand for eco-friendly, sustainable products, and the recent negative publicity for plastic, cans offer many companies a promising option. Eco-conscious customers and companies are drawn to the high recyclability and reprocessed properties of aluminum cans. According to the Environmental Protection Agency, more than half of aluminum soda and beer cans are recycled in the U.S. compared to only 31.2% of plastic beverage containers and 39.5% of glass containers. Cans also present an advantage in their convenience and portability for an increasingly active, on-the-go lifestyle. 
As cans become more popular, there are some important facts to understand as you consider if cans are a good choice for your beverage. Your understanding of the can industry, production process, and procurement practices can have a significant impact on your beverage costs and time to market. Below are seven things you should know about putting your beverage in cans. 

1. There is strong supplier power in the can market
Three major suppliers produce a majority of the cans in the U.S.—Ball Corporation (headquartered in Colorado), Ardagh Group (headquartered in Dublin), and Crown (headquartered in Pennsylvania). 
Ball Corporation, founded in 1880, is the earliest and largest manufacturer of recyclable aluminum beverage cans in North America. The company specializes in the manufacture of metal packaging for foods, beverages, technologies, and household products. Ball Corporation has over 100 locations around the world, more than 17,500 workers, and reported net sales of $11.6 billion (in 2018).
 
Ardagh Group, founded in 1932, is a global leader in the manufacture of recyclable metal and glass packaging for some of the world's largest brands. The company operates over 100 metal and glass facilities and employs over 23,000 people. Combined sales in 22 countries are over $9 billion. 
 
Crown Holdings, founded in 1892, specializes in metal/aluminum packaging technology. The company manufactures, designs and sells beverage packaging, food packaging, aerosol packaging, metal closures, and specialty packaging products worldwide. Crown employs 33,000 people, with $11.2 billion in sales, servicing 47 countries. 
The size and longevity of these suppliers gives them a lot of power when it comes to setting prices, timelines, and minimum order quantities (MOQs). While can suppliers accept orders from companies of all sizes, it is easy for a small order from a new company to lose out to a large order from an established company. There are two approaches to secure your position in the competitive market for cans: 
Plan ahead and negotiate with larger quantity orders, or 
Gain purchasing power by coupling your volume with another company that orders large quantities on a consistent basis. 
2. Lead times can be long and fluctuate throughout the year 
Lead times are one of the most important aspects of your beverage business. Not building in adequate lead times can throw off your entire production and launch schedule and increase your costs. Given the short list of can suppliers, your alternative options are limited when lead times fluctuate throughout the year, which they frequently do. One extreme case we've seen is when the lead times for 8.4-oz cans jump from the typical 6-8 weeks to 16 weeks within a short timeframe.  While lead times are particularly long in the summer months (a.k.a. beverage season), new packaging trends or very large orders can push lead times out even more. 
 
To minimize the impact of unexpected lead times on your production timeline, it is important to stay on top of your schedule and keep an extra month of inventory on hand if possible - especially during the spring and summer months. It's also vital to keep the lines of communication with your supplier open. When you regularly share updates on your forecasted demand, you give your can supplier the opportunity to alert you to any changes that might impact product availability.  
3. Minimum order quantities are higher than you might expect
Most can suppliers require a minimum order of a truckload for printed cans. Depending on the size of the can, full truckload (FTL) can vary. For example, the MOQ for a 12-oz standard can is 204,225, or equivalent to 8,509 24pk cases. If you can't meet that minimum, you have the option to order pallets of brite cans from a broker or reseller and sleeve them. Can sleeves are digitally printed labels that are shrink-wrapped to the surface of the can. Although this method allows you to produce with lower quantities of cans, it's important to know that the per-unit-cost is generally quite a bit higher than for printed cans. How much higher depends on the type of sleeve and graphics on it, but it will typically cost $3-$5 per case extra to sleeve a can vs. print on it. In addition to the cans, you are adding on the cost of the sleeves, and the sleeve application, as well as the freight to ship cans to your sleever and to your end location. Most of the time, you will have to pay for full truckload freight, because can pallets are too high for less than truckload (LTL) carriers to roll up their doors.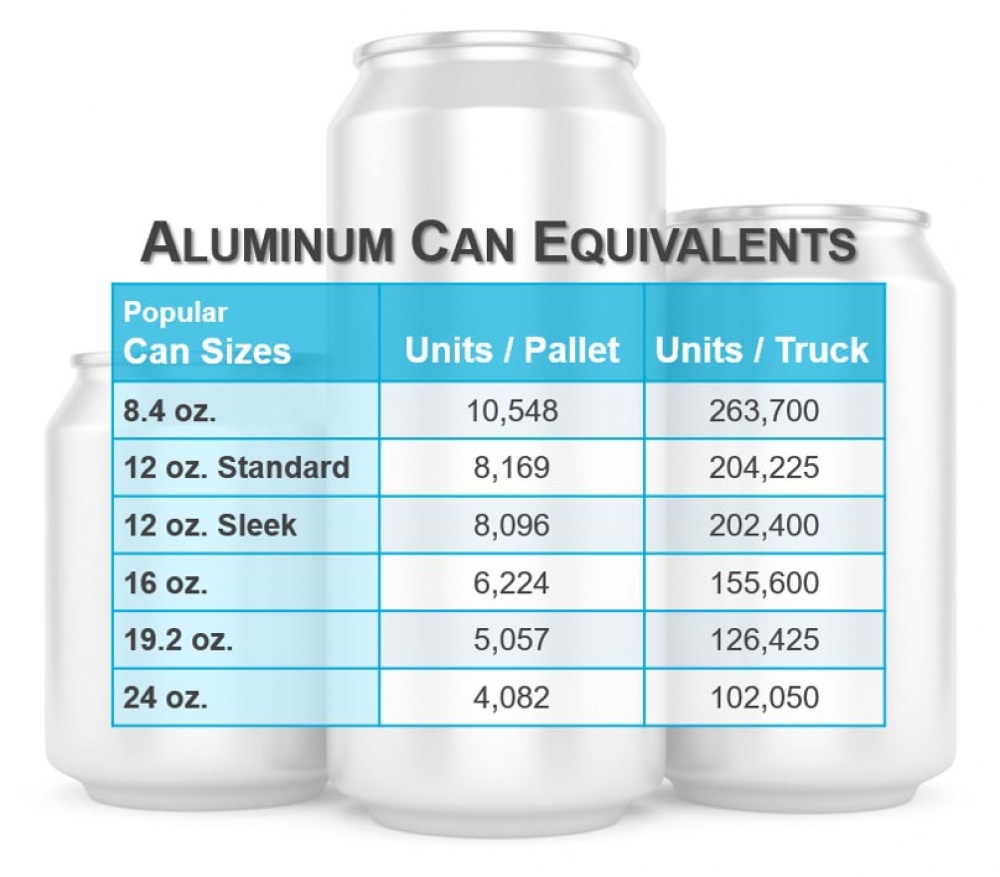 Another option is to order a truckload of printed cans and warehouse them for multiple future runs. The downside of this option is not only the cost of warehousing, but also the inability to make artwork changes between runs. A beverage packaging expert can help you navigate this route to optimize your order for future use. 
When you plan ahead, forecast well, and know your options, you can avoid the higher costs of small orders. Be aware that short runs typically come at a higher price and may incur the extra cost of sleeving if you can't meet the minimum. Taking all of this information into account will help you be more realistic when it comes to estimating and planning for the cost and quantities of your orders. 
4. Availability may be an issue
When you need a particular can style or size, you likely need it right away. Most beverage companies can't afford to wait six months for cans given production schedules and launch deadlines. Unfortunately, unpredictable factors can cause certain models and sizes to become unavailable for extended periods of time. If a production line goes down for the 12-oz can or if there is a sudden desire for a popular new can model, supply may become limited. For example, the success of energy drinks, like Monster Energy, has decreased the availability of 16-oz cans, and an increase in sparkling water has put pressure on the supply of 12-oz cans.  Sleek cans and other less standard formats have become so popular recently that some manufacturers have reserved capacity for existing customers only. In 2015, Crown ran into a capacity issue and had to turn away smaller breweries. 
 
The best way to avoid availability issues is to plan ahead and pay attention to market trends and developments in beverage packaging. Build in time and flexibility into your plans whenever possible. During times of threatened or scarce availability, a good existing relationship with your can supplier and co-packer can serve as excellent sources of information to keep you in-the-know and help you prepare for what lies ahead. 
5. Colors on cans look different 
Your beverage's brand is a valuable asset that you want to plan and consistently maintain across your advertising and packaging. While standard 4-color process printing is what most people and designers are familiar with, printing on a can is much different.  In 4-color process, four colors (cyan, magenta, yellow, and black) are applied as separate layers to a substrate, and other colors are created by overlapping those colors or adding a spot color, or PMS color. 
When printing on a can, all of the colors must be transferred to the can at one time from one common plate. Because colors can't be combined in the can printing process, you're limited to six spot colors. It can be difficult to color match on cans, especially with white hues. Because there is so much specialized knowledge related to can printing, it's important to work closely with vendors that specialize in can artwork and the special requirements before you place an order. It's also highly recommended that you attend the color proofing and press check to ensure that the cans printed will be what you pictured before full production starts.  
6. Not just anyone is good at can artwork and design
Your can artwork and design are equally as important as your can colors. A good can designer should have the expertise to trap and separate your artwork. Trapping is the process of placing a very small margin (usually three-to-five thousandths of an inch) between the colors on the can to keep them from overlapping during can printing since the aluminum cans don't absorb any ink. During printing the colors spread out towards each other and fill the gap. This is a unique skill that not every graphic artist may be familiar with. You can work with the graphic designer of your choice on design, placement, labeling requirements, regulations, etc, as long as you make sure to have it expertly trapped and put on the correct die lines. If your artwork and design are not set up properly, the end result will not turn out as you expect. It is better to invest in design expertise than to lose money on a printing job that doesn't perfectly represent your brand.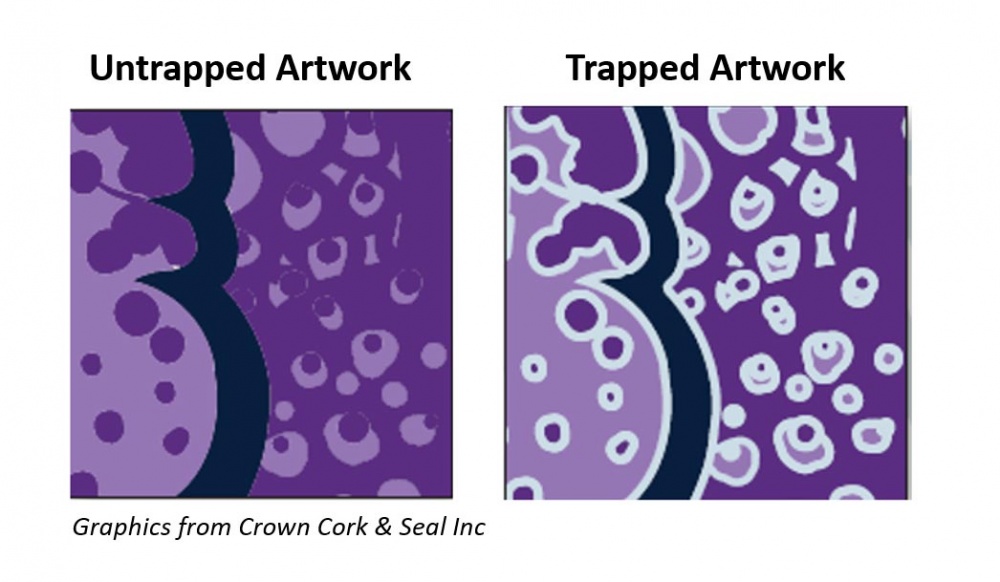 7. Liquids must be tested prior to can-filling 
All liquids must undergo corrosion testing before they are packaged into cans. This testing will determine the type of can lining your beverage requires and for how long the lining will last. Can manufacturers and most contract packers require that your can have a can warranty before producing your finished beverage. Most corrosion testing results in 6-12-month warranty. It should be noted that some beverages can be too corrosive to be packaged in aluminum cans. Things that can cause your beverage to be corrosive include acidity level, sugar concentration, coloring additives, chlorides, copper, alcohol, juice, CO2 volume, and preservation methods. Having the proper testing done ahead of time can help save time and money. 
The more you understand the ins and outs of each container type, the easier it is to select the one that best fits your needs. Whether it's aluminum cans, glass, or plastic, having the industry knowledge and insights to create and execute on a winning strategy is vital to your beverage's success. 
Are you ready to discuss container and packaging options for your beverage? We'd love to help! Tell us about your beverage project.