EY Announces Janet Johanson of BevSource Entrepreneur Of The Year 2019 Award Finalist in Heartland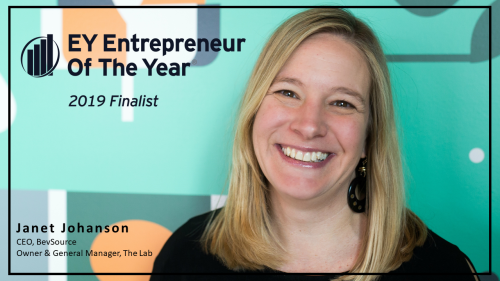 Johanson joins ranks of unstoppable entrepreneurs
Janet Johanson of BevSource has been named a finalist for EY's Entrepreneur Of The Year® 2019 Award in the Heartland program. Widely considered one of the most prestigious business awards programs in the US, the program recognizes entrepreneurs and leaders of high-growth companies who are excelling in areas such as innovation, financial performance and personal commitment to their businesses and communities, while also transforming our world. Johanson was selected as a finalist by a panel of independent judges. Award winners will be announced at a black-tie gala on June 27 at the Children's Theatre Company in Minneapolis.  
"I am honored and humbled to be a part of this elite group of leaders," said Johanson. "I am especially indebted to those who have pushed me and helped me to get to this point – family, friends, mentors, and most of all my team at BevSource and The Lab. There is nothing more rewarding than working alongside talented and passionate people who are dedicated to making our clients' beverage dreams a reality."
For more than 17 years, Johanson has been the driving force behind BevSource, which helps beverage businesses navigate the fast-paced, and ever-changing world of beverage development and operations. She recently led the company's acquisition of European-based MyDrink Beverages, as well as the launch of a new, first-of-its kind, pilot production facility and taproom called The Lab. 
Johanson actively contributes to community organizations that empower and encourage the next generation of leaders and entrepreneurs. She is a board member for Junior Achievement of the Upper Midwest, and Give Us Wings, a non-profit that helps people in Uganda develop projects in the areas of economic development, medical, and educational support.
The Entrepreneur Of The Year® program has expanded to recognize business leaders in more than 145 cities and more than 60 countries throughout the world.  
Regional award winners are eligible for consideration for the Entrepreneur Of The Year National competition. Award winners in several national categories, as well as the Entrepreneur Of The Year National Overall Award winner, will be announced at the Entrepreneur Of The Year National Awards gala in Palm Springs, California, on November 16, 2019. The awards are the culminating event of the Strategic Growth Forum®, the nation's most prestigious gathering of high-growth, market-leading companies.
Program Sponsors
Founded and produced by Ernst & Young LLP, the Entrepreneur Of The Year Awards are nationally sponsored by SAP America and the Ewing Marion Kauffman Foundation.
Local sponsors for the Heartland program include Padilla, PNC, Salo, Schulze School of Entrepreneurship and Twin Cities Business. 
About Entrepreneur Of The Year®
Entrepreneur Of The Year®, founded by EY, is the world's most prestigious business awards program for entrepreneurs. The program makes a difference through the way it encourages entrepreneurial activity among those with potential and recognizes the contribution of people who inspire others with their vision, leadership and achievement. As the first and only truly global awards program of its kind, Entrepreneur Of The Year celebrates those who are building and leading successful, growing and dynamic businesses, recognizing them through regional, national and global awards programs in more than 145 cities and more than 60 countries. ey.com/eoy
About EY
EY is a global leader in assurance, tax, transaction and advisory services. The insights and quality services we deliver help build trust and confidence in the capital markets and in economies the world over. We develop outstanding leaders who team to deliver on our promises to all of our stakeholders. In so doing, we play a critical role in building a better working world for our people, for our clients and for our communities. For more information, visit ey.com.