By Vanessa Walker
You don't have to look much further than the toilet paper aisle in your local supermarket to see that everything is far from normal when it comes to shopping patterns and buyer behavior. While distribution and supply chain constraints change how companies create and deliver products, consumers are altering what and how they buy, as well as the values they put into their purchase decisions. According to a study by Fleishman Hillard, 68% of global consumers surveyed report the pandemic has changed the products and services they once thought were important.
Some of these disruptions will subside as the crisis dies down while others are here to stay. Many shifts customers' have made in how they think about and purchase products will impact how they purchase in the long run. Understanding what's driving behavior can help us develop models for predicting what the customer landscape might look like in the future.
Shift 1: More Open to Online
Safety concerns related to COVID-19 have pushed consumers who typically purchased in stores to explore online shopping. A report from Rakuten Intelligence found that U.S. e-commerce spending was up roughly 36% year-over-year, from March 12-15, essentially doubling its growth rate from earlier in the year. People are buying everything from prescriptions and baby products to cleaning supplies and groceries from online retailers, and many of them are doing so for the first time. One-third of shoppers surveyed by Gordon Haskett Research Advisors on March 13 said they bought food online over the past week, and of those, 41% were doing so for the first time.
As shoppers experience the advantages and disadvantages of forgoing a physical visit to the store, the question is: Will new converts continue to buy online after the current crisis is over? According to a survey by eMeals, 97% of respondents who placed orders online planned to continue using online grocery in the future, despite experiencing limited product availability and delivery delays.
Now that customers have been forced to overcome the hurdles keeping them from buying online, many will look to continue getting their beverages delivered to their doorstep. What does this mean for beverage companies? If you haven't integrated e-commerce into your strategy, now is the time to figure out how you can leverage online shopping to grow your brand.
Being accessible and available to customers online and offline is vital as stockouts have disrupted brand loyalty, at least in the near term. Consumers are more willing to try new brands if they can't find the items they typically purchase. According to data from AlixPartners, as many as 65% of U.S. consumers reported that they have tried new brands after sheltering in place became commonplace and 79% did so because their usual product was out of stock. In a survey by shopping rewards app, Shopkick, only 14% of customers said they will not make a purchase if their preferred brand is unavailable. Perhaps an interesting go-forward strategy for brands to become a regular on a shopper's list is to suggest the delivery service use their product as a recommended replacement when the other leading brand in their category is out of stock. Imagine replacing in-store demos with an actual sale delivered right to the consumer's home in lieu of the leading brand in the category. Cracking the "swap-out-code" could be a huge win for brand owners.
Shift 2: Ready to Stock Up
Before COVID-19, many households didn't consider supply shortages as they regularly shopped in well-stocked stores. People are shocked and scared that such critical items as hand soap and toilet paper, aren't readily available in stores when needed. More recently, the news cycle has focused on covering the disruption of supply chains and production, causing consumers to feel even more uncertain about whether they will see shortages in products they rely on. Just as in the time leading up to Y2K, people are stocking up on nonperishables, bottled water, and cash, in this time of unpredictability, which has fed consumers' desires to feel more in control of their resources and less reliant on supply chain systems which are now seen as unstable and unreliable. According to a survey by Shopkick, 47% of consumers reported stocking up on essential items, with 78% saying it made them feel "safer."
In the face of global uncertainty, consumers have a heightened desire to feel more secure about their ability to purchase products they want and need on demand. Beverage brands should consider driving consumers to their best-selling items, perhaps tapering SKUs and producing more of their most popular products in an effort to stay in stock during this time of increased demand. The masses of consumers, as well as retail customers, will be at a crossroads keeping up with demand inside their finite spaces. Beverages who capitalize on the high volume throughput will outpace even larger competitors with too broad an assortment to focus on stocking only their best-sellers.
Shift 3: Focused on Building Immunity
As the threat of contracting COVID-19 rises, people have become more concerned and aware of their health, and in particular, their bodies' ability to fight off disease and infection. According to the Nutrition Business Journal, supplement brands with immunity SKUs are seeing an unprecedented spike in sales, with interest spreading into adjacent categories. New Hope Network reported that during the week of April 6, 2020, 17 of the top 20 vitamin category sales on Amazon were immune related, with elderberry and vitamin C supplements ranking in the top five. Immunity supplements sales are projected to spike above 25% in 2020, to $3.3 billion overall, according to Nutrition Business Journal.
The COVID-19 outbreak has been a loud wake-up call for many consumers who had previously failed to connect nutrition and their immune system's ability to fight off or recover from ominous threats. This awakening presents an opportunity to design and provide products bringing "immune-forward" properties to consumers and retail customers in new ways.
I am using the term "immune-forward" to describe a group of products that have a supplement facts panel, and include items such as Vitamin C, electrolytes, amino acids, necessary minerals or other detoxification ingredients that elevate the body's ability to replenish itself with essential immune-boosting elements.
Shift 4: Increased Loyalty to Brands Who Care
During a time of chaos, consumers draw closer to brands and retailers who solve problems and make decisions for the greater good. Consumers expect brands to use their influence to create awareness, bring people together, and provide for the greater good, and it can't just be lip service. With the high level of transparency in today's social media-driven world, people are evaluating how brands live up to the values they proclaim. Data by Qulatrics shows that 48% of consumers surveyed indicated they trust brands more when they take care of their employees.
Customers are shifting their spending to align with their values and emotions. According to a survey from the 2020 Edelman Trust Barometer, twenty-nine percent of U.S. survey respondents have already started using a new brand due to the innovative or compassionate way they have responded to COVID-19.
Now is when the rubber meets the road for brands that claim to be purpose-driven and customer-centric. Consumers care about the values and actions behind the brands they align with. Beverage brands that pay attention and respond with relevance and authenticity stand to gain trust and loyalty from customers that will last beyond the crisis.
Consumer-facing companies have some tough challenges, as well as some significant opportunities ahead. Even when everything else feels uncertain, the core principle behind strong beverage brands remains the same. Businesses that identify, understand, and respond to employees, and consumers' needs are the ones that will survive and thrive, no matter what the future holds.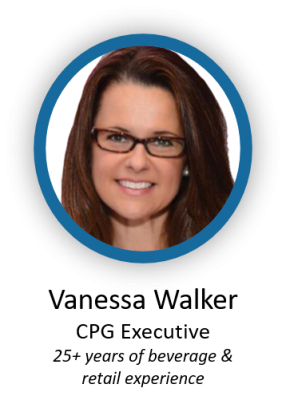 Vanessa Walker has more than 25 years of beverage and retail experience, with expertise in both corporate and entrepreneurial environments. Walker served as Executive Vice President of Sales and Marketing at Celsius Holdings, Inc. from 2016 to 2018. Before joining Celsius, she served as Executive Vice President, Sales and Marketing of LaCroix Sparkling Water for National Beverage Corp. Prior to her time at National Beverage Corp., Walker served as Director of Marketing for Big Red, working primarily to re-launch the Red JAK energy drink. Previously, she held the position of Vice President, National Accounts for IN ZONE Brands, makers of the then BellyWashers and TummyTicker brands (now Good2Grow), where she successfully positioned the lines at national retailers, growing sales from $850,000 in 1999 to $90 million by 2003. She began her career in retail management and buying for Target stores in the food and beverage category.