Good Dogg Beverages' "Pawsitive" Approach to Building a Stand-out Seltzer While Helping Those in Need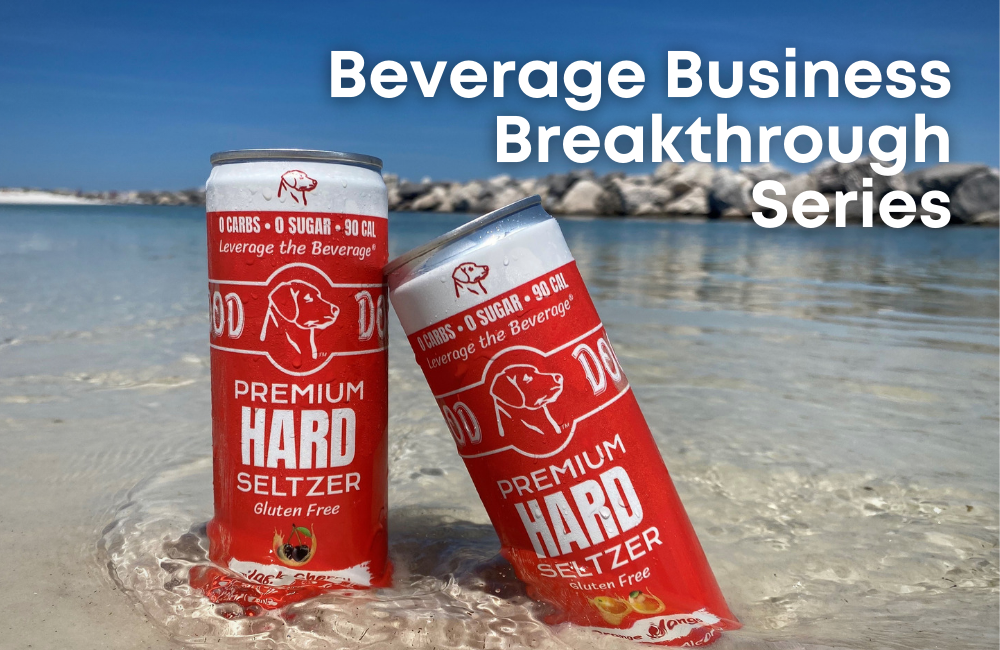 Tony Venturoso doesn't measure his seltzer's success in revenue or cases sold. Instead, he envisions the love and relief families of children with rare diseases will feel when they receive hope and support from patient foundations or are matched with a service dog that his company, Good Dogg Beverage, helps to provide. These causes mean a lot to the engineer-turned-beverage entrepreneur who personally witnessed families' struggles when battling leukemia five years ago. 
"These families are carrying around so much weight on their own," says Venturoso. "They are affected by something few other people have experienced. While caring for their child, they become fierce learners, educators, and advocates for anything that will raise awareness and improve treatment options for other children like theirs. I am sure it can be exhausting." 
The desire to provide immediate, tangible comfort to families impacted by rare diseases is at the core of Good Dogg's DNA. The premium hard seltzer company donates a portion of every sale to rare pediatric disease foundations, groups that provide service animals for these children with rare diseases, and animal shelters. 
In addition to its heartwarming purpose, Good Dogg brings a unique line of expertly crafted, heavily-tested beverages to customers who are looking for a flavorful, low-calorie drink that also gives something back to families in need.    
Formulating for Flavor
Fourteen years ago, Venturoso followed his curiosity down a path that would lead him to co-found Good Dogg. After 30 years in the corporate world, Venturoso left his job in technology to join a NASCAR team, where he met and befriended the beverage formulator he would later work with to create the line of clean, uniquely flavored soft drinks. Before he landed on seltzers, Venturoso spent time working with flavors on ideas for other segments of the drink market. At one point, he had a deal with a major sports apparel brand to create private label sports drinks on their behalf, but the deal eventually fell through. 
"The beverage industry is tough to get into because you need distributors to move your product, but the distributors won't take your product without sales," says Venturoso. "You have to show you have interest, and it takes money to do that."
Instead of giving up, Venturoso focused on learning more about a market where he saw a lot of potential - hard seltzer. 
Crafting a Superior Seltzer 
After seeing the success of ready-to-drink beverages, like Mike's Hard Lemonade, and the rise of more health-focused functional drinks, Venturoso decided to focus his 15 years of flavor-refining experience on creating a line of hard seltzers. In addition to developing his hard seltzer flavors, Venturoso zeroed in on two other factors that would differentiate his product in the marketplace, a focus on clean brewed hard seltzer base and exceptional flavor formulation. Venturoso used primary research with his target market to dial in formulation factors, including water quality, the brewed seltzer base, and unique flavor ingredients, to create a more enjoyable seltzer experience. 
"I knew we were on the right track when people were commenting that not only did our samples taste great, but they didn't have any aftertaste or mask the flavor with too much carbonation," says Venturoso. "We also realized that we could partner with rare disease research and support foundations as well as service dog and rescue providers to give back to those families in need."  
Pulling Together Passionate People
While he was perfecting his new seltzers, Venturoso partnered with his close friends, Dr. Tom Parry and Mark Dellaporta, to co-found Good Dogg Beverage.  
"This team's coming together strikes me as rather providential," says Venturoso. "We have a group of like-minded individuals that not only have strong product development and marketing skills but have direct and deep experience working to bring hope and support to families impacted by rare diseases."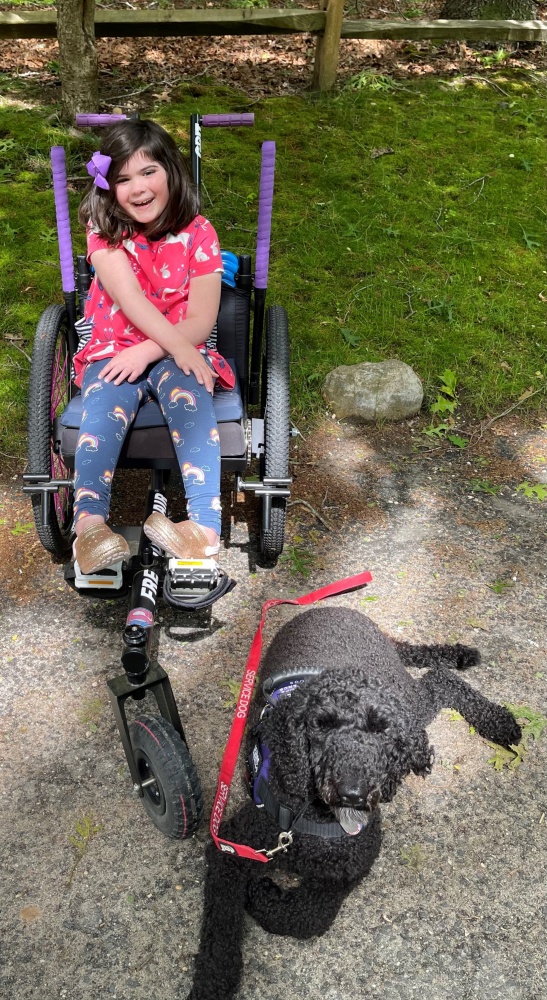 Both Dr. Parry and Mr. Dellaporta hail from the biopharmaceutical industry, where they were deeply engaged in product development in various roles. At Good Dogg, Dr. Parry brings decades of scientific insight to his role in product development, and Mr. Dellaporta serves as general counsel. Given Good Dogg's desire to support families of children with rare diseases, Dr. Parry introduced the team to his friend and colleague, Luke Rosen. Rosen founded the KIF1A Foundation to help children and their families affected by KIF1A Associated Neurological Disorder, a progressive neurodegenerative disease that has impacted his family. In addition to his role in creating the KIF1A foundation, Rosen is also an accomplished actor with roles in Law & Order and FBI: Most Wanted, among many others. Rosen, whose daughter Susannah was diagnosed with KIF1A in 2016, joined the Good Dogg family as a member of its board of advisors. The team developed its "Leverage the Beverage" approach, which, at its heart, uses some of its profits derived from seltzer and merchandise sales to support pediatric rare disease foundations as well as service dog and pet rescue organizations.
While not every team member comes out of the beverage industry, Good Dogg's unique approach marries people with a passion for beverage excellence and the company's supportive and purpose-driven mission. At the same time, Venturoso is finding creative ways to learn and scale by working closely with an exceptional slate of partners. 
The Lab--Powered by BevSource, is one such partner. Beverage experts at The Lab and BevSource came alongside Venturoso and his team to get their formulations ready for commercial production. The Lab guided Good Dogg through a pilot run to perfect and produce a short run of shelf-ready products on commercial equipment for Good Dogg's soft launch and to send to distributors. 
"This is the kind of partner we need and deeply appreciate as we seek to bring our products to discerning consumers who are motivated to help Leverage the Beverage," said Venturoso. "I deeply appreciate BevSource's knowledge, strong reputation, and talent in the beverage space, but I also love that they are genuine and authentic," says Venturoso. "They are who they are. Their honesty is refreshing. The best way I can describe the feeling is it's like you're sitting down with your family at the end of the day. There is a lot of admiration and respect there." 
Venturoso has a similar admiration for his marketing firm, AD Leaf. "They are an amazing group of people that I now consider family, says Venturoso. "I love the way they work with us. They're smart, fun, and experts in their approach to getting the Good Dogg message out." 
Bringing Good Dogg to the World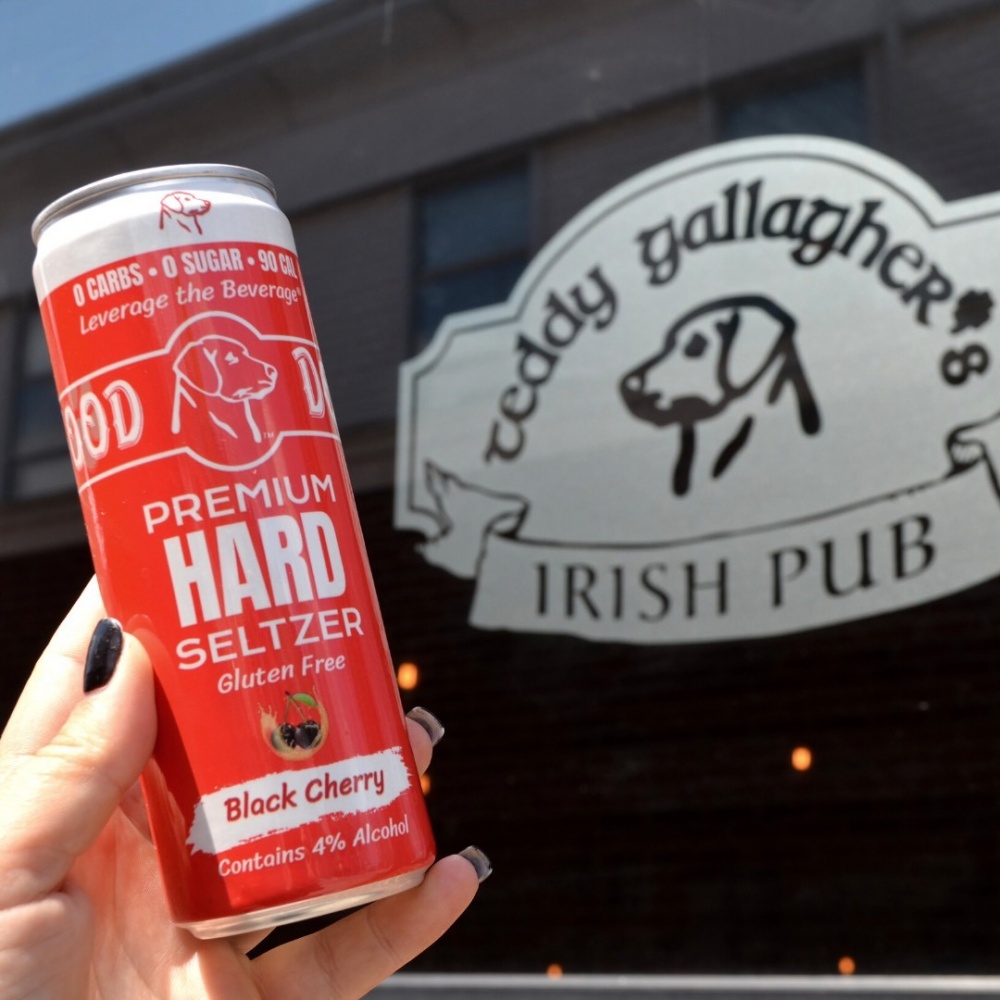 Another beloved Good Dogg partner is Joe Gallagher, owner of Teddy Gallagher's Irish Pub in Franklin, Massachusetts. Gallagher's dog, Teddy, is the namesake for the establishment and the inspiration for Good Dog's name. Teddy Gallagher's hosted Good Dogg's soft launch in April 2021, drawing nearly 100 supporters of Good Dogg's mission and creating excitement around the flavorful, 90-calorie, zero-sugar, zero-carb, 4.5 percent ABV beverages that continue to receive positive reviews. The event also helped Venturoso with one of his most challenging decisions, which flavors to focus on first. What flavors would those be? Here's a hint: the most popular flavors coming out of the soft launch were dragonfruit, black cherry, cucumber lime, and orange mango. 
Good Dogg is now gearing up for his first commercial run of 2,000 cases. The team is not glossing over the challenges ahead as they compete with approximately 500 other hard seltzer flavors for shelf space. But Venturosos is confident that Good Dogg is destined for great things as it brings high-quality seltzers to the marketplace and simultaneously supports children and their families in need. 
"It's not only about the beverage," says Venturoso, "it's about joyfully giving back and bringing that positive energy to the hard seltzer market."