Keeping You In The Know: BEVERAGE INGREDIENT TARIFFS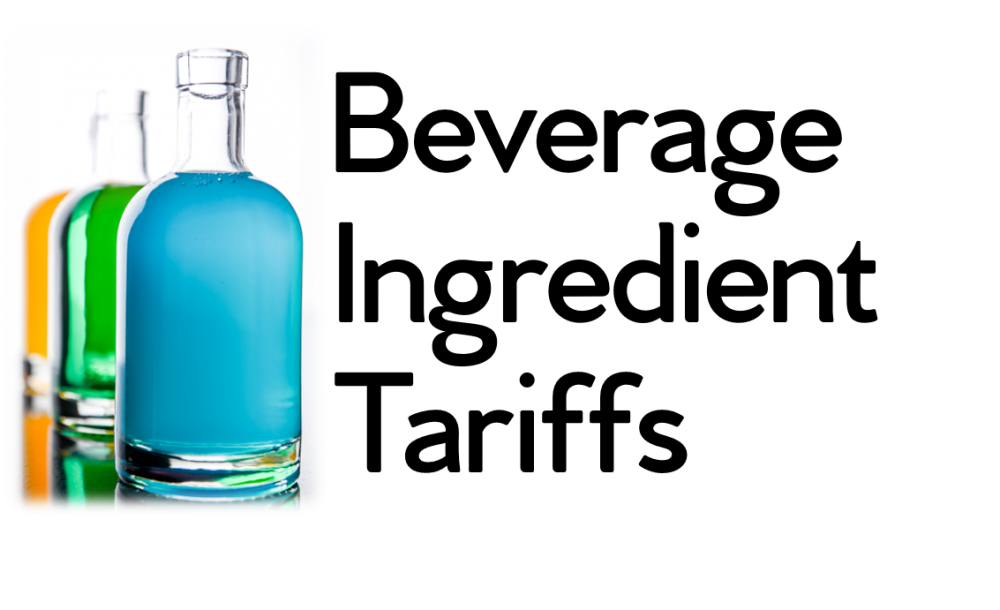 Recent activities surrounding newly imposed tariffs have many beverage brand owners uncertain of what to expect when sourcing ingredients. To keep you in the know, we compiled a list of beverage related commodities to place on your radar as you plan for 2019. 
Almonds (shelled and unshelled)
Apples (fresh and dried)
Apricots (fresh and dried)
Bananas (fresh and dried)
Beta Carotene
Bilberries
Blackberries (fresh and frozen)
Cantaloupe
Carambola (starfruit)
Carob
Cashews (shelled and unshelled)
Chayote
Cherries
Chili peppers
Chitosan 
Citric Acid
Coconut (dried, without inner shell, and other)
Coffee
Cooking Oil, including soybean, coconut, and corn
Corn and corn products
Cowberries
Cranberries
Cucumbers & Gherkins
Currants (frozen)
Dairy
Dates (fresh and dried)
Durian
Erythritol
Figs (fresh and dried)
Fruit & Vegetable Juices (including apple, pear, pineapple, tomato, grapefruit, etc.)
Fruit Pastes, Purees, Jams, & Jellies
Gooseberries (frozen)
Grapefruit
Grapes
Guava (fresh and dried)
Honey
Hydroxypropyl Methyl Cellulose
Kale
Kiwi
L-Arginine
L-Citrulline 
Lemons
Limes
L-Malic Acid
Loganberries
Longan (fresh and dried)
Lotus fog
Lychee (fresh and dried)
Magnesium Carbonate
Mango (fresh and dried)
Mangosteen (fresh and dried)
Maple Sugar & Maple Syrup
Microcrystalline Cellulose
Mulberries (fresh and frozen)
Mushrooms
Nectarines
Oats
Orange Juice
Oranges (fresh and dried)
Other Citrus (including clementines, mandarins, pomelos, and satsumas)
Other Fresh, Dried, Frozen, & Preserved Fruits & Nuts
Papaya
Peaches
Peanut butter
Pears
Persimmons (fresh and dried)
Pineapples (fresh and dried)
Pitaya
Plantains (fresh and dried)
Plums
Potassium Bicarbonate
Potassium Citrate
Potassium Sorbate Granular 
Prunes
Raisins
Rambutan
Raspberries (fresh and frozen)
Rice (including brown, glutinous, and other varieties)
Rose hips (frozen)
Sodium Benzoate Granular
Sorghum
Soups & Broths
Soybeans (yellow and black)
Spinach
Strawberries (fresh and frozen)
Strawberry Jam
Sugar Alcohols
Taro
Tea
Truffles
Water, including mineral, carbonated, and flavored: 10%
Watermelon
Wheat
Whey protein
Whiskey and Bourbon
Wine & Sparkling Wine
Xylitol
For more information and the complete list of tariffs, visit ustr.gov.
Need help? Our experienced and service-orientated procurement team is ready to assist with any of your ingredient and packaging needs.  Contact us today.