Navigating the No and Low Alcoholic Beverage Market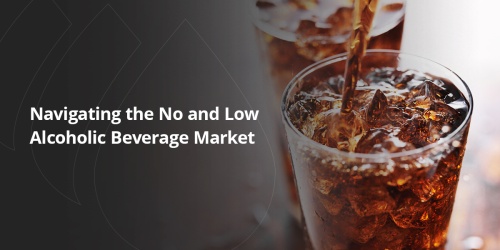 While alcohol has long been a centerpiece of social events, its effects have led many health-conscious consumers to the nonalcoholic drink market. People have varied motivations for choosing these drinks, from health and addiction concerns to the simple desire to avoid a hangover. Whatever their reasoning, consumers now have a diverse selection that includes alternatives for beer, champagne, wine, spirits and mocktails.
This rising market offers exciting opportunities for the beverage industry, particularly in the out-of-home space, with options for both new and existing brands.
The State of the Nonalcoholic Beverage Market
Although it only makes up a fraction of total alcohol sales, the nonalcoholic market is on a fast track to success. In 2022, it saw 20.6% year-over-year growth with a total sales value of $395 million. Perhaps more telling is its projected 5.8% compounding annual growth rate between 2022 and 2030. The rise of sober-curious and health-conscious consumers has paved the way for this interesting new market.
Along with zero-alcohol drinks, the nonalcoholic drink market can include beverages with lower alcohol by volume (ABV) measurements than their traditional versions. In the U.S., these include malt beverages with less than .5% ABV. You may hear these collective products referred to as "no and low" drinks since they have no or low amounts of alcohol. Nonalcoholic beer holds the largest share of the market, accounting for 85.3% of sales in 2022. Nonalcoholic wine came second at 13.4%, followed by nonalcoholic spirits at 1.3%. 
You can find simple alcohol-free versions of classic favorites or all-new, elevated concoctions infused with unique elements like botanicals, bitters and cannabis. Some of these "no and low" drinks even tout health benefits, offering an alternative to the usual effects of indulging in these drinks.
Low-alcohol and nonalcoholic beverages are gaining traction, particularly in food service outlets like cafes, restaurants and bars. Predictions say these locations will account for 62% of spending and 20% of volume consumption by 2027. Many people use "no and low" products to enjoy the social atmosphere of these out-of-home settings without the effects of alcohol.
Overall, the market poses an interesting opportunity for brands to meet rising demand and provide novel products with health benefits.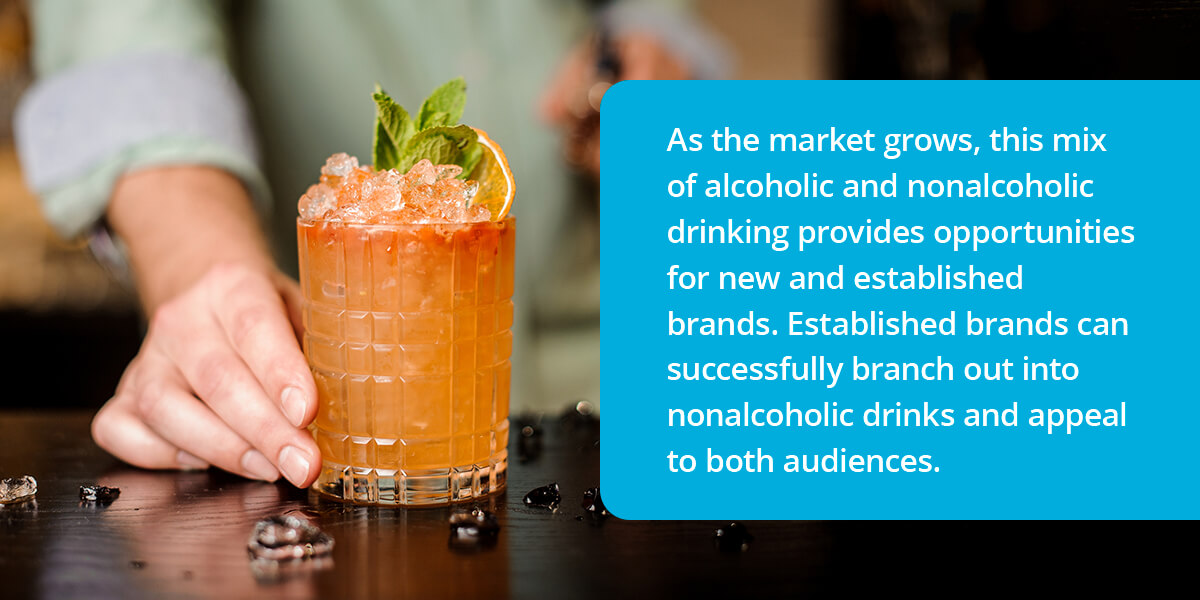 What's Driving the Nonalcoholic Drink Market?
Naturally, this market includes people who don't drink at all, including those who are pregnant or recovering. Still, it would be a mistake to assume that most buyers avoid alcohol entirely — of the people who buy nonalcoholic beverages, 82% still buy alcoholic drinks as well. The significant overlap between "no and low" and full-strength buyers shows that people view nonalcoholic beverages as complements to traditional drinks. 
The nonalcoholic drink market has a promising future, primarily thanks to millennials and Gen Z. Some of the factors driving the "no and low" market include:
Health benefits: Nonalcoholic drinks are gaining popularity among people with existing health conditions and the COVID-19 pandemic has prompted many more to prioritize their health. Over the first two years, 60% of consumers worldwide became more conscious of staving off health problems with a healthier lifestyle. These buyers are working on mindfulness, nutrition and moderation, making "no and low" drinks an appealing solution. Many of them are willing to pay more for a healthier drink. 
Social opportunity: Some people find that avoiding alcohol means missing out on a significant number of social events. Nonalcoholic drinks allow them to mingle and enjoy the night without facing unwelcome questions or feeling out of place. Sober bars have even popped up in some cities, providing a progressive, adults-only atmosphere without the alcohol.
Minimal effects from alcohol: Those who do enjoy alcohol often use "no and low" drinks to reduce its impact. They might alternate between alcoholic and nonalcoholic beverages or opt for low-alcohol beer all night. These consumers can minimize alcohol's unpleasant side effects and avoid a nasty hangover the next day. 
As the market grows, this mix of alcoholic and nonalcoholic drinking provides opportunities for new and established brands. Established brands can successfully branch out into nonalcoholic drinks and appeal to both audiences. The original product raises awareness for the new one, while the new nonalcoholic option can encourage people to try the original alcoholic drinks. Independent brands can also step in, carving out a niche in a growing industry and bringing new ideas into the fold.
Challenges in Formulating Nonalcoholic Drinks
Nonalcoholic drinks have some understandably unique requirements. Many drink makers are still figuring things out, but most will need to tackle the following challenges:
Taste: Replicating the taste and "kick" of alcohol can be challenging, especially for wine replacements. Finding blends that mimic those complex flavors can be a long process of trial and error.
Production costs: While nonalcoholic drinks typically cost about as much to produce as alcoholic ones, their development costs can be higher. Finding a recipe that lets you match an alcoholic beverage's flavor and texture can take many attempts before it's ready to go to market.
How BevSource Can Help Nonalcoholic Drink Brands Succeed
The beverage market can be complex and "no and low" drinks have some unique challenges. Entering the nonalcoholic beverage industry with minimal risk requires extensive expertise and resources. BevSource offers both.
We're a one-stop shop with services and connections to help you develop, source and produce beverage products. Drinks are all we do — you can rest easy knowing that our team has been there before and knows the ins and outs of the nonalcoholic drink market. Some of our beverage consulting services include:
Development: We can help you cultivate the perfect unique nonalcoholic drink formula for your buyers.
Validation: Minimize risk and optimize your plans with hard data to inform your decision-making.
Sourcing: We can help you find the right ingredients and packaging materials at competitive prices from an unmatched network of vendors.
Production: Our team can ensure quality, consistency and efficiency in your manufacturing solution.
We serve new and scaling brands and can help you reduce risk, improve speed to market, access more resources and tackle industry challenges.
Talk To Us About Your No and Low Beverage Idea
With a wide range of services and unparalleled expertise, BevSource can help you get your nonalcoholic or low-alcohol beverage to market. Our skilled teams know the ins and outs of this unique industry to quickly and efficiently start selling in a rapidly growing market. Reach out to us today to talk to a pro and start developing your nonalcoholic drink product!