Plant-Based Dairy Alternatives — Industry Insights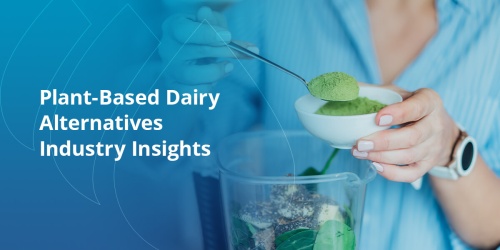 For food and beverage organizations, the global dairy alternatives market promises significant potential with a growing market and niche segments that can offer powerful opportunities. When you want to expand your beverage product selection and reach new markets, this venture can support your development goals.
Types of Plant-Based Dairy Alternatives to Milk
Plant-based beverages offer diverse options to consumers seeking an alternative to dairy products.
Each alternative has a unique flavor profile, texture and health benefits, so individuals can choose the one that best supports their dietary needs. Many include proteins to help products better compete with traditional dairy products and milk, while others use ingredients to improve sweetness or texture.
Some common dairy alternative milk for customers include:
Soy milk
Almond milk
Oat milk
Coconut milk
Rice milk
Individuals can also find plant-based alternatives for yogurt, creamers, cheese and other products, expanding this market into various segments.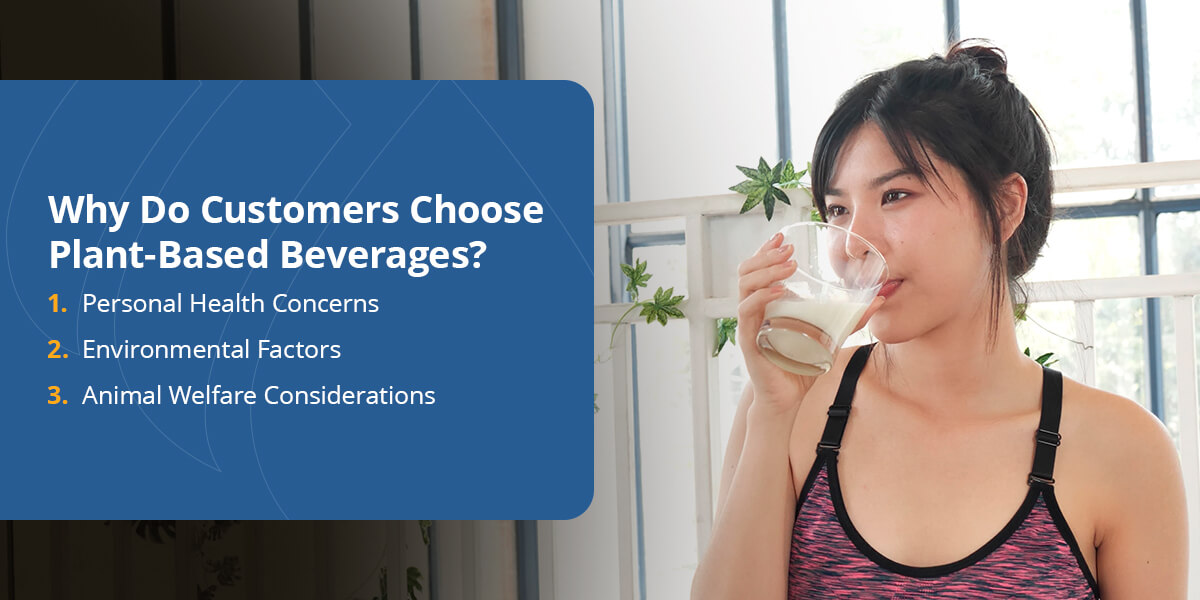 Why Do Customers Choose Plant-Based Beverages?
Customers are forgoing traditional milk and dairy products for plant-based alternatives for many reasons. Understanding the motivations behind conversions and selections can help businesses determine if they should expand their products to include plant-based beverages.
1. Personal Health Concerns
Many individuals choose plant-based alternatives to milk because they can't eat traditional dairy. These beverages make it safe for individuals with lactose intolerance to consume more products without exposing them to the lactose in traditional dairy products that can poorly interact with their bodies.
Further, consumers might seek dairy alternatives because of the potential added health benefits. While traditional milk can offer protein and calcium, the alternatives can boost health in additional ways. For example, consuming less dairy may help someone lose weight.
For others, it can support personal lifestyle choices. Individuals who opt for vegan and vegetarian diets for personal, health or environmental reasons can expand their diets and support their nutrition with plant-based alternatives.
2. Environmental Factors
Consumer habits and needs can impact the environment through agricultural demand. Many environmentalists report that plant-based diets, like replacing traditional dairy with plant-based alternatives, could improve the global climate and create a more sustainable life for humans and other ecosystems.
The agricultural industry is responsible for using large portions of finite resources while producing high amounts of byproducts, like carbon emissions. In fact, over half of all emissions released by the agricultural industry are from meat and dairy production. Further, scientists believe switching to a more plant-based diet could cut global emissions by around 49% for a healthier atmosphere and air quality.
Increased demand and population growth cause more land to become farmland. Around 43% of available land is used for agricultural purposes, and 83% of all farmland goes to livestock and dairy production. Switching to a more plant-based diet could free up around 24% of farmland for other uses. Proper land use is essential because ecosystems get destroyed to create farmlands, leaving species endangered and decreasing local biodiversity.
A plant-based diet can also improve water preservation efforts. Around 70% of available global freshwater goes to agriculture and crop irrigation. Out of these crops, around 24% feed livestock. While plant-based diets still require water, they use significantly less to produce food. To produce 1 kilogram of grain, farms need 1,000 liters of water. In comparison, you'd need 43,000 liters of water for 1 kilogram of beef.
3. Animal Welfare Considerations
More than 9.3 billion livestock and poultry are killed every year for food in the United States. In some cases, the treatment of these animals is subpar, with cows, chickens and other farm animals living in poor conditions and dealing with inhumane treatment. Many individuals choose to support other industries and organizations that forgo poor treatment of animals by purchasing dairy-free products.
Challenges Facing This Industry 
Because this industry is an alternative to traditional dairy products, they must compete with a powerful industry and well-known brands for sales and conversions. Dairy products have traditionally been the standard in grocery stores, restaurants and recipes, making it more challenging for individuals to find products that meet their needs. Your brand can boost competition by identifying your market segment's specific pain points and developing products and marking materials that solve their problems.
Further, few regulations currently exist for this market, which can deter some customers. However, as of April 2023, the Food and Drug Administration is revising regulations for plant-based milk alternatives to give more clear nutritional background on dairy alternative beverages. One suggestion is that brands include how their product compares nutritionally to traditional milk guidelines.
Market Overview 
In 2022, the plant-based dairy alternatives market achieved a value of over $26 billion globally and is projected to grow 12.6% by 2030. Part of the growth of this industry is in part of the marketing stance of dairy alternative brands, highlighting the health benefits of their products and appealing to certain audiences, like those focused on clean eating, the keto diet or non-GMO foods. Products might have special marks signifying they're gluten- or lactose-free, appealing to individuals with dietary restrictions. 
Customer Behaviors 
As of 2021, around 44% of the global population consumes plant-based alternatives to dairy. Individuals are seeking out milk, yogurt, cheese, butter, coffee creamer and ice cream alternatives, creating a large market. However, milk alternatives dominated the market, resulting in over 67% of the market revenue.
While customers can choose from several alternatives, soy-based options remain the most popular, accounting for 32% of market revenue. Almond alternatives come in second. Both options provide abundant health and nutritional claims, helping boost their popularity. Preferences between the various alternatives might be due to slightly different flavors and necessary additives to provide desired taste and texture.
Packaging Trends
Additionally, many dairy alternative brands boost their competitiveness by highlighting the nutritional value of their products. About 67% of surveyed consumers said they drank plant-based alternatives because they're healthier, which can be a big part of a brand's approach to packaging. Highlighting nutritional value shows these alternatives can potentially support individuals better than traditional dairy and milk.
Distribution Trends
While this market seems a bit more niche and focused on healthy eating and nutritional needs, supermarkets reported the most sales of dairy alternative products. In 2022, supermarkets had an over 39% revenue share for dairy alternatives. The popularity of these products in supermarkets shows that individuals are choosing these products over traditional dairy.
Supermarket prevalence also means brands must have powerful marketing and brand recognition tactics to draw and keep the attention of their market segment. Because individuals have a wide variety of non-dairy and dairy products to choose from, brands need strong brand loyalty to maintain their sales. Developing a niche product and working that into branding materials can help highlight how your product can serve customers better than other competing brands.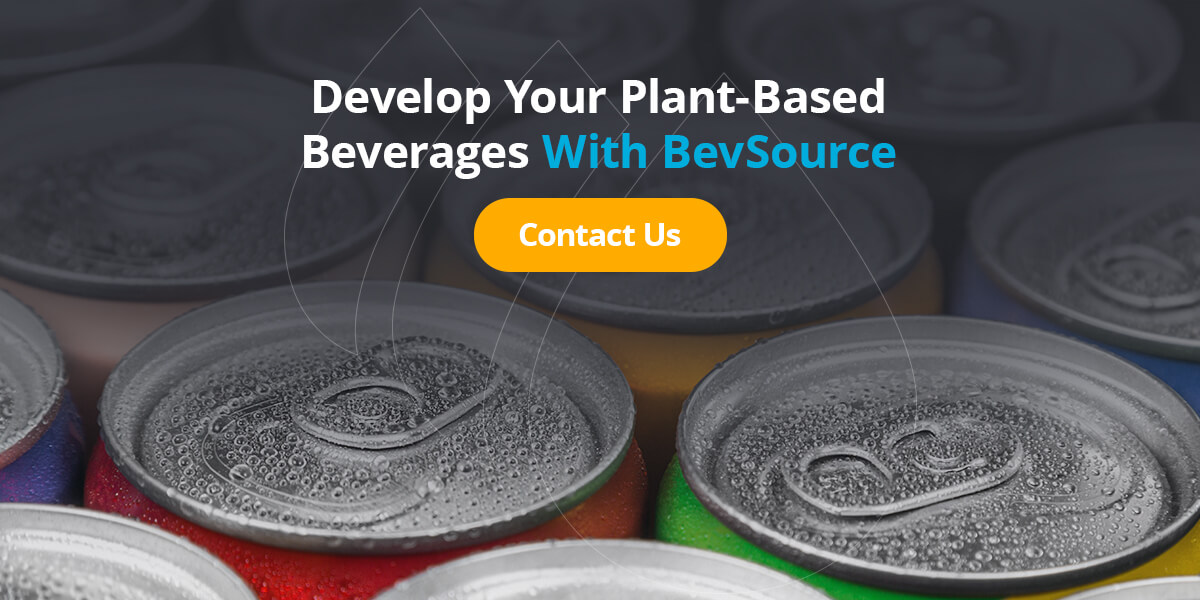 Develop Your Plant-Based Beverages With BevSource
When you want to expand into a new market, you need the right partners to support your venture. BevSource can assist your company throughout every step of the process to becoming a dairy alternative industry leader, from beverage development to design and distribution. As experts in the beverage industry, we have the skills and knowledge to streamline ingredient sourcing and manufacturing for better results that support your goals. 
Contact BevSource today to get started!