Tommy Hester and Wilson Barr met on the field as pitchers for their college baseball team. But the two friends say they spent more time talking about beer than baseball. In 2013, Hester and Barr started Two Pitchers Brewing with a mission to brew the world's first craft radlers. Their beers can now be found in 11 states. Two Pitchers is a top 40 craft brand in California by total sales and was rated as one of The Beer Connoisseur Magazine's Top-30 Fruit Beers in the World.
How did two twenty-somethings achieve so much success with limited brewing experience and no brick and mortar brewery of their own? The Two Pitchers founders are building a winning brand by finding the right teammates, leveraging their talents, treating people right, and having fun.
A More Robust Radler
Barr and Hester spotted their brewing opportunity in radlers, a style that blends beer with fruit or fruit juice. The founders noticed a difference in quality between the radlers served at pubs in Europe and the radlers and shandies packaged by Big Beer in the US. So, they developed a plan to bridge the gap by blending small-batch beer with real fruit and quality ingredients post-fermentation.
"We knew we could take a craft approach to the category by putting time and energy into building creative flavors while still making our beers light, fruity, and easy to drink," says Hester.
Assembling the Right Team
As excited as Barr and Hester were about their idea, they knew they would need help getting it ready to scale. At the recommendation of advisors, Two Pitchers reached out to BevSource to help them create formulations and find the brewers to make them.
"We were 22 years old and very green when we started," says Hester. "Having an experienced and organized team behind us helped us navigate the daunting challenges of setting up for successful contract brewing."
Two Pitchers forged a relationship with BevSource that has become an integral part of their success to this day.
Perfecting the Product Development Process
Hester and Barr know the most critical element of their brand is the quality of the liquid. With the contract brewing model, controlling the quality of the end product starts with a solid recipe. Two Pitchers works with the product development team at BevSource's pilot facility, The Lab, to create the craft beer bases for their radlers. The Lab produces commercially-ready samples that Hester and Barr can add creative combinations of fruit juice to, resulting in perfected recipes they can confidently bring to brewing facilities.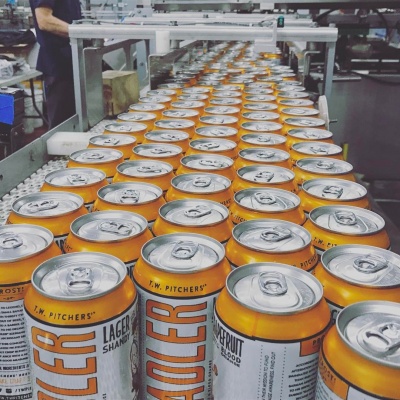 BevSource helps Two Pitchers find and contract with brewers who can produce their products and help monitor quality throughout the process. Hester knows how critical that experienced oversight is.
"Regardless of the partner you find, you need to be thorough and on top of things," says Hester. "That is where BevSource helps us out. We have someone from BevSource on the line every time we're producing something new."
Two Pitcher's calculated product development processes are vital to the brand's consistent growth and success with customers.
"We get the most excited about doing things the right way," says Hester. "We want everything we do to live up to our quality standards. It's fun to be growing the brand consistently while introducing new beers that our customers enjoy."
Continuing to Tap Into Innovation
While Two Pitchers has grown its distribution and is opening its first taproom this spring, the team doesn't plan to change its business model or key partners anytime soon. Barr and Hester remain focused on doing what they enjoy most, using their passion and creativity to make great beer for more people.
"We're happy with this model," says Hester. "It has served us well by helping us stay nimble so we can think outside the box to keep growing the brand."