5 Trending CBD Drink Types
CBD-infused drinks are growing rapidly in the North American beverage market. But what is the hype about? Besides offering multiple beverage alternatives and flavors, CBD can potentially provide health benefits. The growing market presents attractive avenues and opportunities for investors and manufacturers to scale their businesses and stay competitive.
What Is CBD?
Cannabidiol, popularly known as "CBD," is a naturally occurring chemical found in cannabis plants. CBD is usually mentioned alongside Tetrahydrocannabinol (THC) — the psychoactive substance in marijuana. Compared to THC, CBD is non-impairing, which means it doesn't cause a "high." CBD can be obtained from hemp and non-hemp plants — hemp contains 0.3% or less of THC.
What Are the Benefits of CBD?
Several potential benefits have been associated with the use of CBD. Here are a few examples:
Alleviates certain cancer-related conditions: CBD can potentially reduce some cancer-related conditions and side effects such as nausea, vomiting and pain. Research in this field is still in the early stages, and oncologists remain persistent in evaluating its effectiveness and safety.
Improves anxiety and sleep issues: The use of CBD can potentially alleviate symptoms of anxiety and help people with sleep issues sleep better. Some recent research indicates these findings, though more research is necessary to solidify these benefits of CBD.
Reduces chronic pain and inflammation: CBD is believed to have pain-relieving and anti-inflammatory properties, making these beverages ideal for athletes and the general workout community. It has the potential to treat arthritis and joint-related conditions, including symptoms like swelling, stiffness and pain.
Possesses neuroprotective protective properties: CBD may have the ability to enhance protection against acute and chronic neurodegenerative disorders such as trauma, stroke, dementia, Parkinson's, epilepsy and Alzheimer's. The FDA has approved the application of CBD under the brand name "Epidiolex" to treat seizures associated with Dravet syndrome or Lennox-Gastaut Syndrome in patients 1 year or older.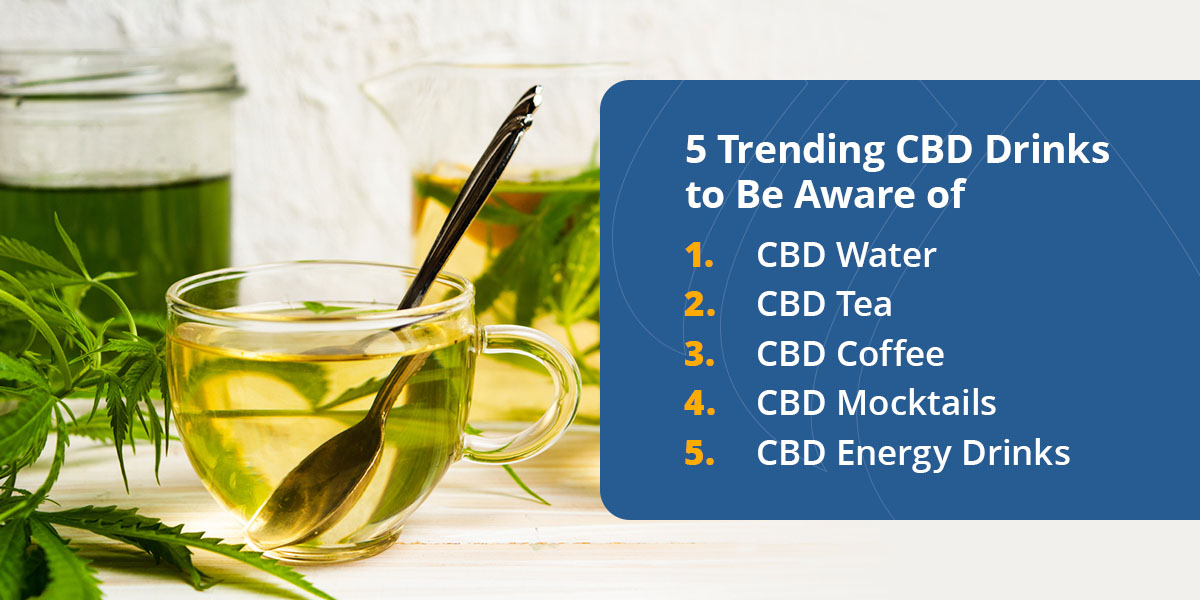 5 Trending CBD Drinks to Be Aware of
Today, all kinds of CBD products exist, ranging from lotions to gummy bears and everything in between. The CBD beverage market is considerable, and many types of CBD drinks exist to meet customers' ever-growing interest in CBD.
Here are the five trending CBD drink types to consider:
1. CBD Water
CBD water is water that's been processed and infused with CBD particles. These products generally contain minimal amounts of CBD and can be a great way for beginners to introduce themselves to CBD.
Considering that the CBD water industry in the United States is projected to be worth $6.49 billion by 2028, CBD water presents a great opportunity to venture into the CBD drink market. The water option could be the ideal solution for most people who want to take advantage of CBD's potential benefits without worrying about significant side effects due to the low CBD content.
2. CBD Tea
Over 159 million Americans consume tea on any given day for various reasons, including health and relaxation. CBD tea can potentially enhance the health benefits for tea lovers. Users can purchase ready-made CBD-infused tea to enjoy the possible benefits of CBD in a way that tastes delicious.
3. CBD Coffee
CBD coffee is a recently touted product on the beverage market, especially for its delicious taste and wellness benefits. CBD coffee is mixed with cannabidiol extracted from a hemp plant, like other CBD-infused drinks. However, this beverage is unique due to its potential to increase energy levels and improve concentration.
Some consumers may also prefer CBD coffee due to the acidity content of regular coffee, which is known to cause stomach irritation and other symptoms.
4. CBD Mocktails
CBD mocktails are a growing trend among most consumers. They have the potential to replace alcohol as a healthier alternative due to their therapeutic benefits — consumers may enjoy their favorite cocktails without worrying about a hangover the following day. CBD mocktails are non-intoxicating and may be customized according to taste. With the right ingredients, you can create a refreshing drink that can help consumers relax and unwind after a long, stressful day.
5. CBD Energy Drinks
Athletes and persons needing extra energy may consume CBD sports drinks and CBD detox drinks to enhance performance. CBD energy drinks could also increase recovery rates by providing anti-inflammatory properties. For those who encounter anxiety and insomnia after intense sessions, CBD energy drinks could boost their energy while improving their mood and helping them sleep at night.
Market Trends and Growth Projections for the CBD Beverage Industry
Recent CBD beverage breakthroughs are creating opportunities in the industry. Here are the top market trends and growth projections to note about the industry:
Total licensed hemp acreage is projected to grow from 525,000 acres in 2019 to 9 million acres by 2030.
In 2022, the CBD-based beverages market was valued at $4.52 billion and growing with a compound annual growth rate of 25.6% from 2023 to 2031.
Beverage manufacturers and suppliers are generating efficient marketing strategies to give brands an early-stage boost, helping spread the word about CBD beverages.
The CBD market in the U.S. is segmented into baby boomers, Gen-Z and millennials.
Regulatory Considerations for CBD-infused Drink Consumption
In 2018, the U.S. Congress enacted the Agriculture Improvement Act, popularly known as the Farm Bill, to remove hemp from the federal Controlled Substances Act. This act legalized CBD that's derived from hemp. However, some states are yet to remove hemp from their controlled substances acts.
Some CBD products remain unregulated, making engaging in full-scale production, marketing or sale challenging. Whether or not using or selling CBD products is legal depends on the product's labeling, marketing and intended use, among other factors.
Even if the product meets the requirements for hemp usage under the Farm Bill, you must comply with other laws, including the Federal Food, Drug and Cosmetic Act. The FDA has recently indicated the need to enhance the regulation of CBD products.
Potential Health Risks Associated With Consuming CBD-Infused Drinks
There are a few suggested side effects associated with CBD consumption, including:
Sleepiness and drowsiness
Changes in mood
Interference with other drugs
Liver damage
Diarrhea or changes in appetite
Unknown side effects during pregnancy
Researchers and scientists are working to substantiate these claims and find solutions to improve CBD usage.
BevSource: Your Trusted CBD Beverage Partner
CBD-infused drinks are growing popular in the North American beverage markets due to the potential health benefits and increased demand. There are numerous CBD beverages, including CBD sparkling water, CBD detox drinks, CBD energy drinks, CBD cocktails, CBD tea and CBD coffee. Federal and state agencies are working to provide clear regulations to improve the production, sale, marketing and consumption of CBD products.
At BevSource, our drink development experts turn your idea into reality. We collaborate with clients to source products and offer resources for beverage development. Do you want to learn more about our services and capabilities? Contact BevSource today!