How To Launch a Beverage Product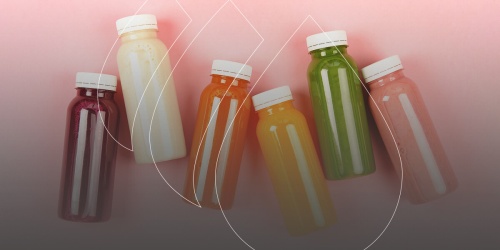 A fantastic idea is the first and most important step toward launching your own drink company, but developing your brand can be tricky. Once you have an idea for a tasty new beverage, you'll still need to know how to start a drink brand and get your product off the ground. 
You'll need to consider various factors in your beverage startup business plan, including market research, beverage creation, sourcing and distribution. While launching a drink brand requires a great deal of effort, dedication and passion, knowing the steps to follow can help aid the process.
Our guide covers each step of the process, from developing your idea to launching your business. Keep reading to learn how to create a beverage product, including tips and strategies to help turn your vision into reality. 
Step One: Research, Development and Planning
Launching a beverage company begins with the research and development stage. Your formula is the foundation, but understanding the beverage industry and market is crucial to developing a beverage startup business plan to see it to fruition. In development, follow these critical steps to launch your beverage product: 
1. Brainstorm Ideas
Before you develop your initial drink idea, it's essential to consider the ins and outs of the beverage industry itself. It helps to think about the big picture when creating a drink product to decide whether you want to focus on selling one product or multiple types.
The beverage industry includes several types of drinks, including:
Health drinks
Juices
Sodas
Energy drinks
Sodas
Sparking waters
Coffees
Teas
Alcoholic beverages
As you're brainstorming ideas, consider the product category your beverage fits into so you can research and analyze your competition effectively. 
2. Conduct Market Research
Conducting an in-depth market analysis is a critical step for creating a drink product and launching a beverage company. Factors to consider include potential competitors and the market size, type, niche and share. This analysis will help ensure you have the resources to help your company flourish. 
You can find several reliable online market tools to help you gain a complete picture of the beverage market. Once you understand your market, you can set up your business by asking yourself the following questions that will help bring your beverage vision to life: 
What's my product?
What differentiates my beverage from competitors' products? 
What's my competitive advantage?
What value does my product give?
Do I have a recipe or a beverage development company to collaborate with?
Do I have enough capital to launch my product on the market?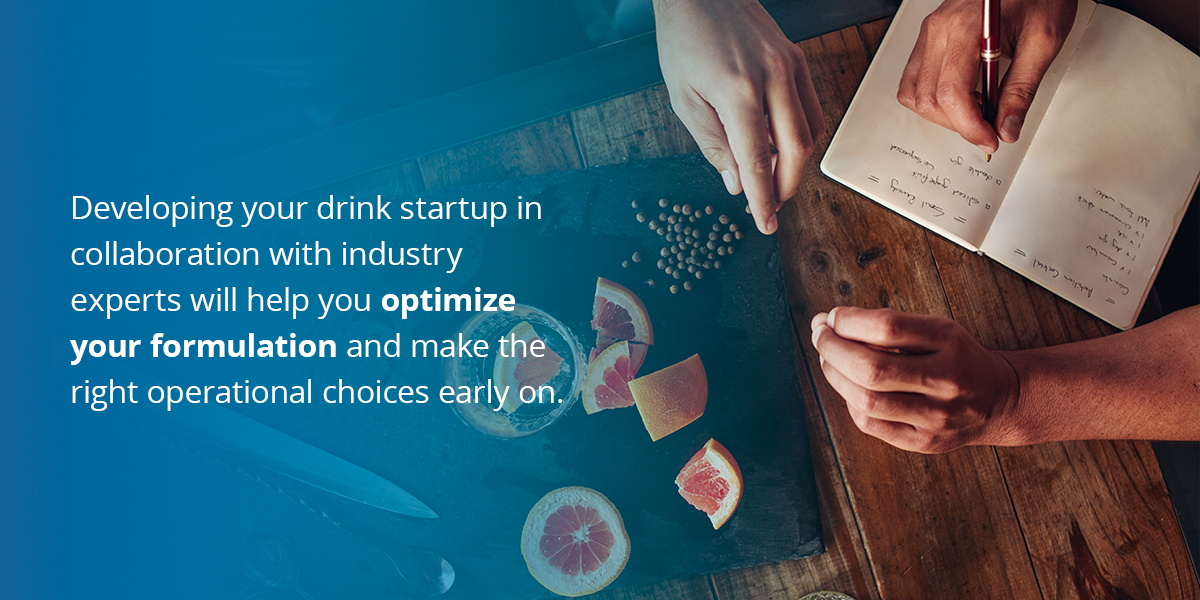 3. Formulate a Beverage Startup Business Plan
Creating a business plan is essential in the development stage and beyond. Doing so helps you determine whether your venture will be too expensive or require more time than you can offer. 
To develop your business plan, you'll need to identify several key components, including: 
Product costs: You'll need to determine the costs of your beverage at each stage. Consider partnering with experts to help you figure out how to reduce costs and determine a competitive price for your product that still allows you to make a profit. 
Your target audience: It's essential to consider your target audience and which demographics you'll market to based on the type of drink you're producing. For example, you may want to start your own soda company for a younger audience. Or perhaps you're hoping to launch an adult-only beverage or a health drink for the fitness market. Determining your market segment can help you identify the best way to advertise your product to appeal to that audience. 
How your product differs from competitors: When you're producing a new drink, you must be able to identify how it differs from other drinks of its type on the market. If you can't determine the difference, consumers probably won't be able to tell either. Identifying your beverage's unique selling point and formulating a competitive business strategy will help you demonstrate why people should buy it versus brands already on the market. 
How you will enter the market: Part of your business plan should include how you'll enter the beverage market and a timeline for growth and expansion. Determine whether you'll start locally or need distribution deals on a national level. You'll also want to determine whether you'll sell your products online. You should create a visual timeline of how you'll enter the market to determine how to reach your target market effectively. 
Your sales strategies: Consider how you will sell your beverages. For example, you may want to sell them yourself or employ sales personnel to cold call potential markets. Your sales strategy will determine what you can do to increase sales in a specific period. Factor in advertisement costs at this stage as well. 
Accompanying merchandise: You might consider including merchandise to generate interest and attract attention. Merchandise possibilities include shirts, free giveaways or other special offers to reach a larger audience. 
4. Develop a Winning Recipe 
At this stage, you may be unsure how to formulate your beverage for your drink startup idea. Or perhaps you have a few ingredient ideas, but you're unsure how to narrow them down or ensure they're financially viable. You'll optimize these ideas to create a successful product at the beverage creation stage. Partnering with drink industry experts can aid the process. 
Partnering with beverage formulation experts at this stage brings the following benefits: 
Creating your formula: Industry experts will first review your vision for your beverage, including any claim or certifications you want to make, and develop a formula based on your drink's type and unique characteristics. They'll work with you to make adjustments and finalize your recipe to make it commercially viable for a contract manufacturer to produce. 
Reviewing ingredient specifications: Industry experts can also review any ingredients you already have in mind to identify the most cost-effective suppliers for your beverage. They'll help ensure your product delivers the taste and consumer experience you envision. 
Developing your drink startup in collaboration with industry experts will help you optimize your formulation and make the right operational choices early on. With their help, you can launch your brand with a solid foundation and ensure a more enjoyable, less stressful process. Working with experts to create your own beverage also helps you take control of the financial side of your beverage startup business plan. 
Step Two: Concept Validation and Pilot Testing
In the concept validation and pilot testing stage, beverage industry experts can help you reduce risks and bring your drink startup idea to life faster. Feasibility assessment and pilot testing provide data and support analysis to determine when to adjust your startup plan and when to stay on course. These validation services are strategically designed for your product's success: 
Feasibility assessment: During your feasibility analysis, beverage industry navigators will identify areas to improve or new opportunities for your formula. They'll also provide a detailed overview of the risks and hurdles you might face and a timeline for getting your drinks on shelves. 
Pilot testing: Pilot testing allows you to test your product in the early stages of development to see what potential users think of it. This feedback helps you create a product that real users want to purchase and consume. For example, you may ask users what they like about your product compared to others or if there's anything they find unappealing about it so you can make changes.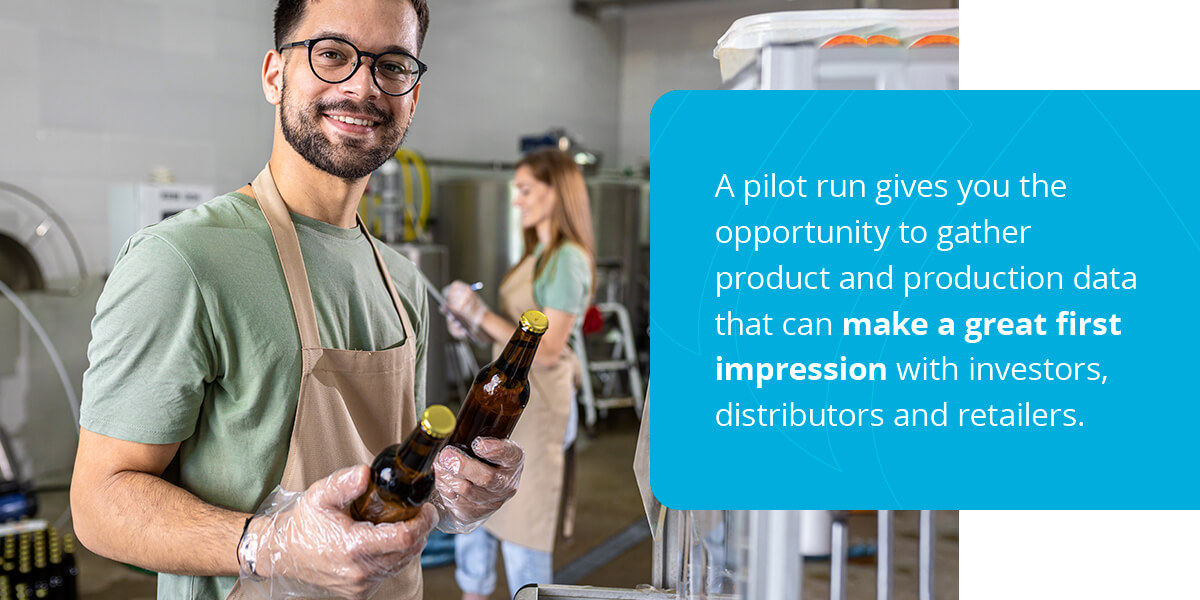 Consider a Small Batch Pilot Run of Your Beverage 
Doing a small batch pilot run gives you a small quantity of your beverage with its finished look to get impressions from consumers and distributors. A pilot run gives you the opportunity to gather product and production data that can make a great first impression with investors, distributors and retailers. It can also help you prepare for full-scale manufacturing.
Doing a pilot run of your beverage will allow you to: 
Optimize your investment by starting with small-scale production.
Reduce risks by ensuring your drink is ready for full-scale manufacturing.
Fine-tune your beverage by refining the recipe and process. 
Look professional to stakeholders.
Validate your brand to co-packers.
Step Three: Sourcing Beverage Ingredients and Packaging
People recognize many popular beverages solely by their branding. Choosing the right packaging for your beverage is crucial to make it part of your signature look. 
Making your beverage easily recognizable can entice consumers to reach for your product rather than competitors. It's also important to create packaging practical in shape and size, so they fit on shelves and store displays. 
While branding can be similar for many types of packaging, drink industry experts can advise you on how to design yours to make it unique. They can also help you choose the best packaging for your product and your target market — for example, you might use slim cans if you're developing low-calorie drinks. At the same time, they might help you decide if your beverage would sell better in packs of four or six based on your product and target market. 
Using the freshest ingredients in their products is also vital for most beverage makers. You may want to use local fruits to produce your juice or need large quantities of ingredients to produce large batches of your product. At BevSource, we can help you source and procure the best ingredients and determine the cost-effectiveness of your options.
"GLOBAL" network of pre-screened/qualified/vetted ingredient and packaging suppliers?
BevSource partners with a global network of pre-screened, qualified and vetted ingredient and packaging suppliers to help you:
Navigate supply chain challenges.
Gain insight into purchasing efficiencies.
Procure a reliable supply of ingredients and packaging.
Get access to innovative and difficult-to-procure ingredients.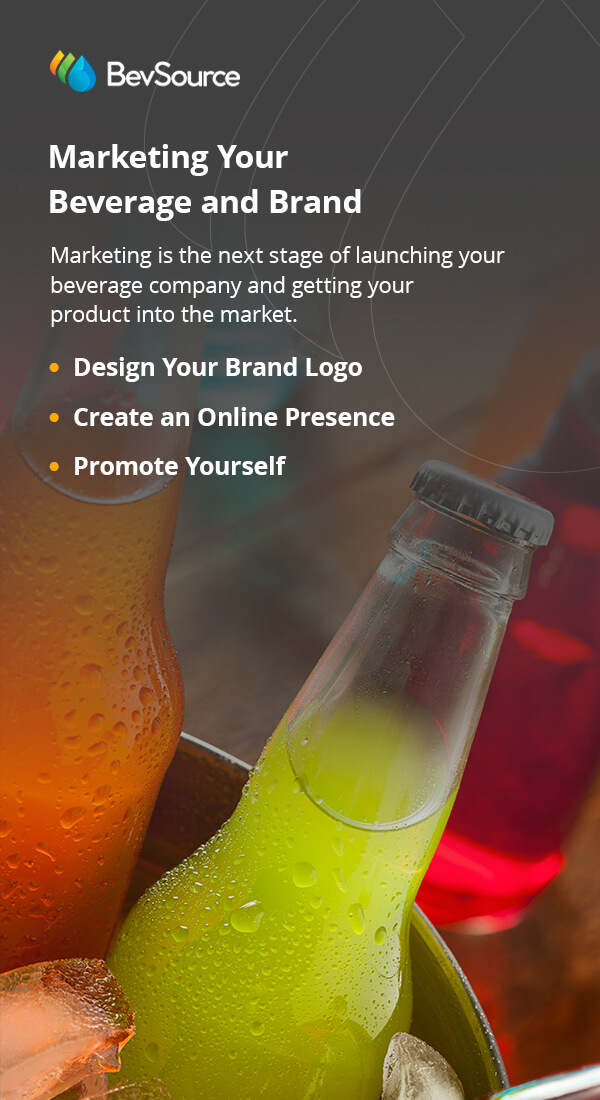 Step Four: Marketing Your Beverage and Brand
Marketing is the next stage of launching your beverage company and getting your product into the market. 
1. Design Your Brand Logo
Having a logo before you launch your products is an essential part of building your brand. Whether you only create a primary company logo or opt for individual product logos as well, make the decision early on so you won't have to alter anything after your product is already on the shelves. 
Your logo design should be unique and represent the personality of your product and brand. It can help to hire a graphic design expert to create a professional and clean logo. 
2. Create an Online Presence
Whether you sell your products online or not, having an online presence is essential. Ensure your website is professionally designed and easy for people to navigate. Include your logo, products, company history and contact information so people can easily reach you. Include the same information on your social media pages, and be sure to update these pages frequently for more exposure. 
When you commit to creating and maintaining your brand online, you can benefit from ongoing marketing and positive interactions with your target market. With a social media or online presence, consumers might be more likely to trust your brand and product.
3. Promote Yourself
Promotion is essential now that you're advancing to the later stages of your drink startup journey. A well-designed marketing strategy will ensure long-term success as you bring in more customers and profit.
Consider pursuing several advertising methods, such as: 
Website and blogging.
Email marketing.
Social media channels.
Events and in-store sampling.
Discounts and coupons.
Step Five: Production and Distribution
It's finally time to get your beverages on shelves! As you launch your drink startup, consider the following steps for success:
1. Find a Beverage Co-Packer
Before launching your drink startup, consider choosing a beverage manufacturer. While it can be challenging to find a co-packer that can make your product to your specifications, budget and scale, we can help. 
At BevSource, we can provide access to the largest co-packer network in North America to help guide you through the manufacturing process. Strategic brands leverage our expertise and relationships to meet your production needs and provide top-quality products consumers will purchase and enjoy. 
Partnering with BevSource can be extremely helpful in producing and delivering your products. We'll help you ensure the quality, consistency and efficiency you desire as you scale your beverage, ensuring your product deliveries are on time, on budget and in compliance. We can even provide scheduling and on-site management to supervise product runs. 
2. Distribute Your Products
Whether you're planning to distribute your beverage yourself or seek larger deals, it's crucial to consider your options and their associated costs. 
Distributing products on your own may seem easier at first, but you'll need to factor in the cost of gas, mileage, staff, vehicle maintenance and insurance. It's also crucial to remember that the three-tier system mandates using distributors for alcoholic beverages. 
At BevSource, we have contacts and resources to help guide you through the distribution process, whether you're working with alcoholic or non-alcoholic beverages. 
Step Six: Ongoing Adjustments
Now that your beverages are on the shelves, it's essential to maintain and adjust your business goals as needed. As your business grows, you may need to add some or all of the following to your ongoing operations: 
Accounting 
Contracting with vendors
Inventory management
Logistics
Imports and exports
Gathering customer feedback 
While managing your beverage business can be time-consuming, BevSource can support you in this process. You'll need a team on your side who will help you grow and adapt your products, keeping trends and your target audience in mind. 
Partner With BevSource for Beverage Industry Expertise
The beverage industry is highly competitive, but you can create your own beverage and venture toward success with the right tools and strategies. As you begin your drink startup journey, consider partnering with the industry experts at BevSource. Both new and established drink visionaries turn to us for development, sourcing and production solutions. 
When you're ready to meet your beverage business goals, we'll bring in industry expertise and insights to help you strategize, problem-solve and plan for your drink's success. We'll help you scale your product with beverage creation, validation, sourcing, production and post-production services to help you reduce risk and work toward growth and profitability.
To learn more, contact us and speak to a beverage specialist today!