Managing Dissolved Oxygen: Ensuring Quality and Packaging Integrity in Beverages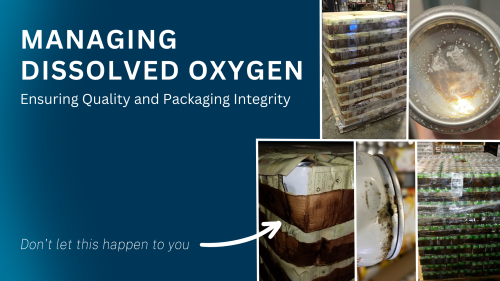 By Claire Smith, Lab Manager, and Matt Bonfitto, Manager of Pilot & Quality Services, at The Lab-Powered by BevSource
Dissolved oxygen (DO) plays a crucial role in beverage quality and packaging. Excessive DO levels can negatively affect the taste, aroma, and color of the product, leading to decreased shelf stability and overall quality. It can also cause reactions with can liners, increasing the risk of leaks and compromised package integrity. 
By understanding and managing DO effectively, brand owners, beverage developers, and beverage manufacturers can not only ensure a beverage's product quality, but also avoid incurring potential financial losses that arise when dissolved oxygen levels exceed can warranty specifications. Exceeding this limit can lead to breach of warranty claims and significant financial losses for beverage companies in the event of packaging leaks.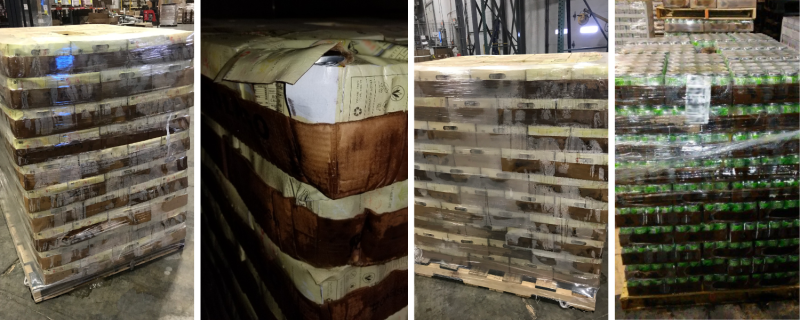 What is Dissolved Oxygen (DO)?
DO refers to the amount of oxygen gas dissolved in a liquid, typically measured in parts per million (ppm) or parts per billion (ppb). Oxygen is a highly reactive gas that can trigger oxidation reactions when it comes into contact with other reactive compounds. Fruit browning is a well-known example of this type of reaction, caused by phenols in the fruit being exposed to environmental oxygen and undergoing oxidation. Although beverage oxidation may not be as dramatic as fruit browning, it can still result in noticeable changes to the taste, aroma, and color of a beverage. Higher DO levels increase the likelihood and extent of these reactions.
Reactions can also occur between DO and the lining and metal of aluminum cans. While can liners are highly resistant to breakdown by liquid, the presence of oxygen can weaken it to the extent that the product within the can is able to come into contact with bare aluminum. When the lining is compromised, the aluminum of the can reacts readily with water and oxygen. The corrosion, another oxidation reaction, increases the likelihood of pinholes and leaking. Most can manufacturers have a maximum DO specification of 1.2 parts per million (ppm). Exceeding this limit can lead to breach of warranty claims and significant financial losses for beverage companies, but even levels within the warranty parameters can impact product quality.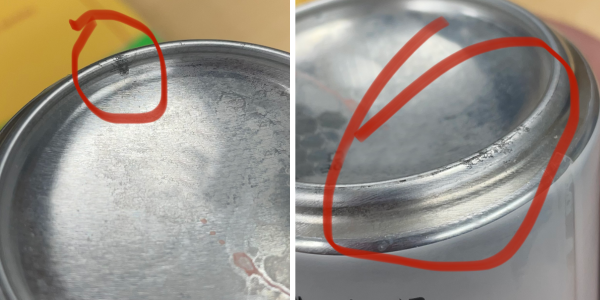 Preventing and Minimizing DO Content
To minimize DO levels, beverage companies and copackers can take several precautions during the blending and packaging of a product. Beverage brands can also work with a beverage formulator to understand how ingredient choices can decrease the risk of DO contamination.
During Formulation
Minimizing DO begins early in the beverage production process as even formulation decisions can impact DO levels. For instance, using liquid ingredients instead of dry ones can reduce DO introduced during blending due to decreased mixing time. Oxygen "scavengers" can also be included in the formula. Common scavengers are ascorbic acid (vitamin C), sulfites, and enzymes such as glucose oxidase. Because ascorbic acid and sulfites impact the flavor of the product, they can only be used when compatible with other ingredients; enzymatic scavengers are flavorless and odorless but are more expensive. Consulting with a beverage formulator can ensure that the final formula is not only aligned with a brand owner's vision but can optimize the formulas and processes to ensure the highest possible quality of your final product.
Mitigating Dissolved Oxygen During Blending
While it's challenging to completely avoid oxygen exposure during blending, precautions can be taken to minimize it:
Minimize mixing time. Agitating liquid to dissolve ingredients introduces oxygen, so the amount of time spent mixing ingredients should be kept to a minimum. 

Add ingredients to the blending tank promptly after being removed from their packaging. Oxygen passively enters liquid that is exposed to air even without agitation, so once ingredients are removed from their packaging, they should be mixed and transferred to the blending tank with minimal delay. 

Avoid opening the blending tank to add ingredients. One common strategy to add ingredients without exposing the blending tank to environmental oxygen is to mix ingredients into a small volume of the product. The mixture is transferred into a keg and purged of oxygen using an inert gas. The deoxygenated mixture is then transferred from the keg into the tank using a hose. This strategy eliminates the need to open the blending tank, preventing oxygen from entering the tank.  

Proper ingredient selection and storage. Ingredients should be stored properly and selected to minimize potential DO as old or previously opened ingredients may contain DO that is introduced into the final product. For instance, a sugar base that has been in storage for several months will most likely have a higher level of DO compared to a more recently produced batch because, even if stored in a sealed container, it is possible for oxygen to diffuse through the walls of plastic containers or the closure.  
Removing and Controlling Dissolved Oxygen Before and During Packaging
Once the product is blended and ready to be packaged, steps to remove DO from the blended product can be taken. One method is to use a vacuum chamber to lower the pressure within the tank, causing any dissolved gas to enter the headspace of the tank where it can be removed. Sparging is another option, which involves bubbling an inert gas through the product to force out dissolved oxygen.
Filling is the final step of the production process that can allow oxygen into a product. This risk can be mitigated by purging the packaging with an inert gas immediately prior to filling in order to force out any environmental oxygen. Fill levels should also be carefully monitored to ensure headspace is kept to a minimum, as some environmental oxygen will be able to re-enter the packages after being purged and excessive headspace allows a higher volume of oxygen into the can before being sealed.  
Measuring Dissolved Oxygen
Preventing, reducing, and removing dissolved oxygen (DO) is crucial to ensuring beverage quality and stability. However, it's equally essential to collect accurate data to prove that DO levels are below the maximum threshold required for can warranties to be valid. In the event of leaking cans or degraded product, DO measurements serve as vital records in possible litigation cases.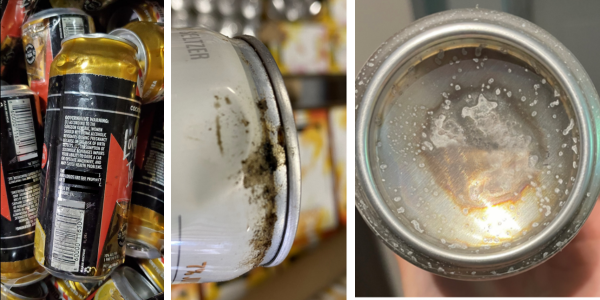 DO measurements should be taken at various points: on the empty blending tank, on the product in the tank after blending is complete, and on filled containers throughout the filling process. These measurements should be recorded and saved for both internal quality assurance purposes and in case of legal proceedings related to leaking cans or product stability issues.
Effective management of dissolved oxygen is crucial for maintaining beverage quality and packaging integrity. While it is challenging to eliminate DO entirely, by implementing strategies to prevent, reduce, and remove DO, beverage companies can improve product stability and reduce the risk of leaking cans. Properly measuring DO at different stages, from blending to packaging, and maintaining records of the data are also essential. By understanding the impact of DO and implementing effective mitigation strategies, brand owners, beverage developers, and copackers can ensure the delivery of exceptional products to consumers and minimize the financial consequences resulting from leaking cans.
Contact our team today to learn more and keep your product safe!