Top 2023 Indulgent Beverage Flavor Trends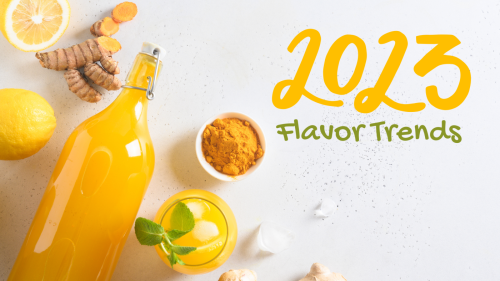 There are more ways than ever to build value with beverage innovation. Customers want products that taste good, quench their thirst, support their health goals, fit their lifestyles, provide meaningful experiences, and align with their values.
The beverage landscape rapidly evolves to deliver specialized benefits to specific markets across categories, consumer segments, and occasions. But with data coming from all directions, it's challenging to get a clear picture of what's working for beverages now, let alone accurately predict what lies ahead.
If anyone has the potential to crack the code on forthcoming beverage flavor trends, it's Sensient. Sensient's history dates back to 1882, and it has successfully leveraged its deep knowledge to become a global leader in flavors, extracts, colors, and taste technologies with the sole purpose of bringing the best taste to life for all food & Beverage categories. Their broad knowledge across all food and beverage types gives Sensient the confidence to understand consumers, the single point of truth.
Contact a Beverage Expert Today
Sensient integrates market research, field research, and hands-on product development in a long-running cycle to introduce successful ideas to an evolving market continuously. Sensient's teams become intimately familiar with how customers experience and interact with beverages through menu reviews, social listening, and regular bar, restaurant, and retail excursions. They use that customer-centric perspective and deep data on flavor adoption across food and beverage categories to identify the most likely areas for flavor innovation to emerge and succeed.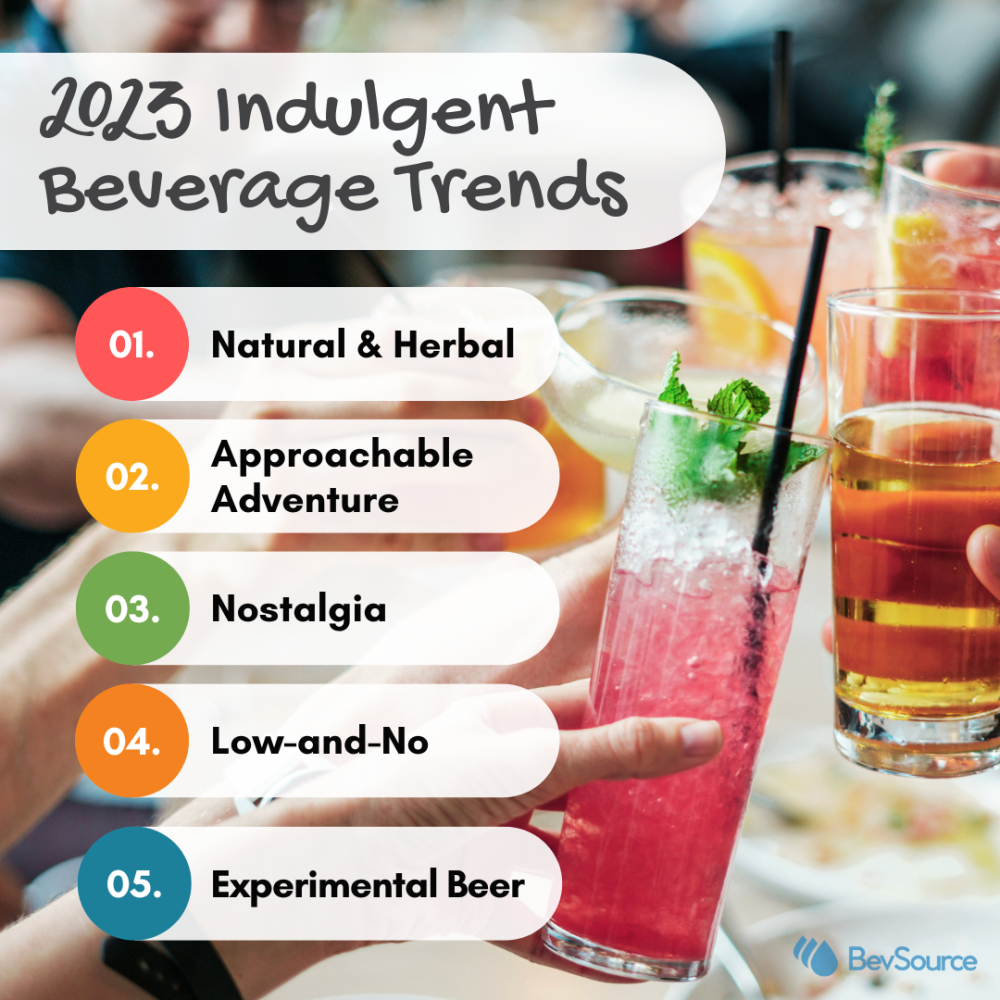 The need for this comprehensive approach is driven by what Sensient identifies as "the blurring of beverage occasions." As consumers bring beverages into their lives in new ways, their expectations for their experience with those beverages evolve. The market must continually adapt to meet more complex consumers in more deeply connected ways. 
One category where consumer behavior is driving significant flavor shifts is Indulgent Beverages.
Angie Kerns, who specializes in beverage flavors at Sensient, says more beverage consumers want to indulge in a wider variety of alcoholic and no-and-low-alcohol options than ever before. "The ongoing drive to meet consumers' shifting, and sometimes competing, desires and values is fueling a new wave of indulgent beverage innovation," says Kerns. "The question isn't, will consumers indulge in beverages in 2023?  Instead, we're looking at what beverages they will indulge in and why."
We had the pleasure of sitting with Kerns to discuss the top beverage and flavor trends that will drive indulgent beverage innovation in 2023.
Trend 1: Natural and Herbal-Inspired Flavors Will Enhance Alcoholic RTDs
Ready-to-drink (RTD) remains the fastest-growing spirit category and is expected to increase its market share to eight percent by 2025. Increased competition means more alcoholic RTD brands are searching for ways to innovate.
Over a quarter of alcohol drinkers in the U.S. look for low-sugar, calorie, or carb options when searching for a healthier alcohol choice. And the RTD category seems to be responding. The number one claim on RTD alcohol beverages in 2021 was sugar-free and no added sugar. But sugar-free isn't exactly enough. 
According to Sensient, the primary driver of alcohol choice by Millennials, who hold the largest share (62%) of RTD purchases, is flavor. Yet many Millennials think alcoholic RTDs are excessively sweet, with more than 30 percent of Millennial alcohol drinkers reporting they often avoid alcoholic RTDs because they are too high in sugar.
"Millennials are early adopters of food and drink trends, so we study their preferences to signal what's to come," says Kerns. "In the case of RTD cocktails, less sugar isn't enough. Consumers want ingredients that balance out sweetness and feature better-for-you ingredients."
Sensient found "Made with Natural Ingredients" was one of the Top Three RTD Cocktail Purchase Motivators, along with "Refreshing Flavor" and "Unique Flavor."
Kerns says alcohol RTDs can pair herbal and botanical ingredients with citrus to bring a subtle sweetness while maintaining a natural flavor profile that leans into the perceived health benefits of natural ingredients. Herbal and botanical ingredients can also bring value to consumers looking for more adventure in their beverages. 

Trend 2: Spirit Brands Will Create Approachable Adventure
As spirit sales continue to outpace beer and wine, adventurous consumers want new yet versatile spirits to add to their favorite mixer or cocktail.
"Indulgent beverage seekers, especially younger consumers, are looking for new experiences, but they don't want to be overwhelmed," says Kerns.
To deliver on those expectations in 2023, spirits brands must focus on creating products that offer an adventurous experience without being too "out there." Striking this balance requires novel flavor combinations with an aspect of familiarity.
Kerns says combining distinctive elements, like florals and botanicals, with more traditional flavors can help spirits brands maintain a well-balanced beverage while introducing an air of adventure. She gives the example of tangerine and honeysuckle.
"Tangerine is a flavor that is recognizable yet slightly uncommon," says Kerns. "But when you pair it with the emerging and somewhat nostalgic flavor profile of honeysuckle, it becomes more approachable to a wider audience of consumers." 
RTD cocktails can also leverage rising flavor trends by integrating tropical and fruity flavors or choosing flavors that exemplify natural, sophisticated, and functional connotations to keep a broad range of customers comfortable yet intrigued.
Trend 3: Nostalgic RTD Cocktail Recipes Will Get a Makeover
Classic cocktail recipes and well-known spirits lured customers from mix-it-yourself to ready-to-drink formats. As consumers signal acceptance of new flavors and ingredients, RTD cocktails can take a twist on the nostalgic, using rising flavor trends to rekindle an old classic.
Ingredients like herbs and botanicals are becoming more mainstream. Sensient saw a 46 percent increase in beverages containing botanical extracts between 2017-2021.
"When you consider the variety of ingredients available - think a whiskey sour with mango, ginger, or chili pepper, or a Moscow Mule with hibiscus - the creativity that can come out of this space is inspiring," says Kerns.
Yet another space where flavors and indulgent beverages intersect with upcoming trends to create excitement is within low-and-no alcohol beverages.
Trend 4: Low-and-No Alcohol Options Will Grow Up
The low-and-no alcohol category now has a 3.5% volume share of the total alcohol sector. As health consciousness and the sobriety movement continue to grow, mocktails are becoming more mainstream. But according to Kerns, the low-and-no category is on the cusp of an influx of flavor innovation. 
"Low-and-no alcohol consumers are looking for a range of products that allow them to redefine their relationship with alcohol and alcoholic beverages on their terms," says Kerns.
Get In Touch With a Beverage Specialist Now
Sensient found that only 17 percent of people consuming low-and-no alcohol beverages entirely abstain from alcohol, and 58 percent of consumers will switch between low-and-no and full strength on the same occasion.
In addition to a broader range of flavors and alcohol content, Kerns says consumers will look to low-and-no products to incorporate trends and technology shaping other categories, like more natural flavors with less unwanted sweetness.
"People want access to the same level of indulgence, health, convenience, and sophistication, whether they're enjoying beverages with or without alcohol," says Kerns. "Low-and-no alcohol beverages will need to move forward fast to keep up with consumers' expectations for an up-to-date beverage experience."
Beer brands are already hot on the low-and-no alcohol trend as an option for refreshing their product portfolios. Sensient reports that 75 percent volume share and seven percent of global beer launches in 2021 had less than 0.5% ABV.
Trend 5: Beer Will Become More Experiential
While there are more non-beer options on the market, beer continues to appeal to a broad population, with 36% of consumers reporting that they have increased their beer consumption over the past year.
In addition to adding more low-and-no alcohol options, Kerns expects beer brands to continue innovating with flavor.
"Beers with unusual flavors, like chocolate, chili pepper, or beers that combine fruity and savory flavors, appeal to consumers' desires for a more unique and adventurous experience," says Kerns.
As the beverage landscape evolves, brands must stay curious to explore and stay ahead of the trends that will allow them to deliver maximum value to their consumers. Aligning with customer trends is critical for introducing successful beverage innovation in 2023 and beyond.
Sources: Sensient Primary Research, Mintel, Social Listening via Tastewise, Innova, IWSR