Healthy Lifestyles Are a Driving Force Behind Consistently Increasing Demand for Natural Beverages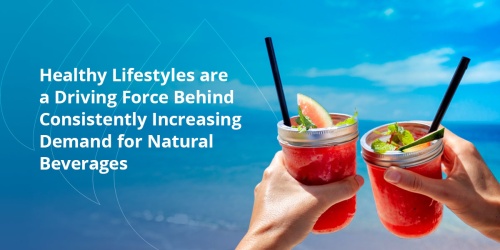 Most likely, everyone you know is health-conscious in some way. Whether they exercise regularly, avoid smoking and alcohol, spend more time in nature, or consciously consider the food and drinks they consume, it's common for people to care about something that contributes to a healthier lifestyle. However, in recent years, it seems like there is an increasing demand for items on the market that make living a healthier lifestyle easier, such as functional beverages, organic and nonprocessed foods, and natural beverages.
In fact, one study found that 77% of consumers want to do more for their health. Now is the time to explore the growing trend of healthier beverages that can help you scale your business and reach consumers who want to build a healthier lifestyle.
What Is a Healthy Lifestyle?
A healthy lifestyle looks different for everybody, and that's because there is no one defined way to be healthy. Consumers who want to live a healthy lifestyle may do things that make them feel good and full of energy, such as improving their diet, getting regular exercise or spending more time with their loved ones. According to Harvard University, a healthy lifestyle is generally defined by the following characteristics:
Healthy diet that includes fruits and vegetables and avoiding sugar-sweetened beverages
Healthy physical activity level of at least 30 minutes per day
Healthy body weight
Avoiding smoking 
Avoiding or maintaining moderate alcohol intake
Of course, it's important to note that a healthy lifestyle is more than taking care of your physical body and the absence of disease. A healthy lifestyle also takes into consideration mental, emotional, spiritual and social well-being, which are just as important for people who want to achieve optimum health. In addition to nutrition, things like proper sleep and stress management can also impact one's health.
What Is a Natural Beverage?
As the name suggests, a natural beverage is any drink that is prepared with natural or naturally derived ingredients. According to the Food and Drug Administration (FDA), the term "natural" in human food labeling means that "nothing artificial or synthetic (including all color additives regardless of source) has been included in, or has been added to, a food that would not normally be expected to be in that food."
Consumers are looking for natural beverages that do not contain excessive or any added sugars or anything that may be harmful to one's health if consumed in high amounts. Some consumers may also use the term "natural" and "healthy" interchangeably, especially if the drink contains things like botanical extracts or other plant-derived ingredients.
It's important to note, though, that the FDA has defined certain standards and criteria for human food to qualify for a "healthy" label. Their updated definition "focuses on ensuring that nutrient-dense foods that help consumers to build a diet consistent with current dietary recommendations can qualify to bear the claim." For example, raw whole fruits and vegetables automatically qualify for a "healthy" label due to their nutrient profile and contribution to an overall well-balanced diet.
Of course, a drink like water is both 100% natural and healthy, but there are plenty of other options for a natural beverage that provide essential nutrients that can have a positive effect on one's health.
Examples of Popular Natural Beverages
Aside from water, many consumers want to know what type of beverages and drinks they can incorporate into their daily lifestyle that perhaps offer a bit more flavor and nutrients than plain H2O. Here are some popular natural beverages you may want to consider incorporating in your beverage business:
Herbal teas: Ginger, chamomile, hibiscus, peppermint, rose hip, and green tea are excellent alternatives for consumers who want natural flavor in their beverages without added sugar and chemicals. These teas offer natural antioxidant properties and can help improve a wide range of conditions, from nausea to high cholesterol and others. It's important to be cautious about what you claim on your label, as the FDA has extensive rules and regulations about what your beverage can claim to do. To learn more, check out our blog post.
Coffee: While adding whipped cream, drizzles of caramel, and sugary creamer to your morning coffee is not considered healthy, consumers who drink black coffee in moderation can benefit from anti-inflammatory properties and reduced risk of certain diseases. This is also an example of something you should claim with caution on your beverage labels, so be sure to adhere to the FDA's regulations. 
Sparkling water: Carbonated water adds a delicious and fun twist to regular H2O. Some sparkling waters are flavorless, while others incorporate juice or natural flavoring for a hint of sweetness. 
Nutritional beverages with plant-based dairy alternatives: Ready-to-drink beverages with dairy alternatives are becoming more and more accessible and desirable to consumers. From protein drinks to chocolate milk to bottled iced coffee, the options are endless.
Kombucha: These fizzy, fermented drinks are becoming more and more popular due to their wide range of health benefits and flavor options. Kombucha provides plenty of probiotics and promotes healthy bacteria in the gut and strong antioxidant properties that are beneficial to human health. 
Increasing Consumer Demand for Healthy Lifestyles 
It's no secret that the effects of the COVID-19 pandemic still linger with many people around the world. In fact, there seems to have been a shift toward health and wellness as more and more people want to boost their immunity and improve their nutrition. Nearly 20% of consumers bought their first plant-based products during the pandemic, and over 90% of them want to continue down this path of healthy alternatives — and that's only counting consumers in the U.S. alone.
For instance, the natural drink kombucha is expected to reach a market value of over $6 billion in the U.S. by 2028, which shows that beverages that are natural, organic and known to have healthy qualities may also see similar projected growth.
In addition, the global natural food and beverage market size is forecasted to reach over $263 billion by 2028. This growth may be partly due to a general increase in organic food and beverage consumption as well as those seeking organic, non-GMO and clean-label products.
One of the latest healthy drink trends is the demand for immunity-boosting food and beverages across various distribution channels, beverage businesses, and supermarkets. The supermarket segment alone is forecasted to gain nearly $896 billion in annual sales by 2026.
Functional drinks, which contain ingredients that provide certain functional or health benefits such as caffeine for energy or l-theanine for relaxation, are also gaining popularity. Some of these drinks might include naturally caffeinated beverages, sports and performance drinks, enhanced water, and fruit teas. Over 40% of consumers reported that functional drinks that boost their health are an attractive option. In 2021, the functional food and beverage market reached over $280 billion, and this number is expected to reach half a trillion dollars by 2028
It seems that the growing health-conscious population also appreciates personalization when it comes to their health, as over 60% of consumers would be interested in drinks that meet their personal health needs, such as those that offer boosts of vitamins and prebiotics.
Among younger consumers, mocktails and nonalcoholic cocktail options are also taking up space in the market, and over 30% of consumers said they consume food and beverages that have stress relief or stress management benefits. Finally, at least 25% of consumers say they purposefully seek out gut-health benefits in beverages, such as probiotics.
Factors Contributing to Increased Demand for Natural Beverages
Though it's clear that the pandemic may have had a significant effect on global consumers and their desire to improve their health through their daily food and beverage intake, there are many other potential factors that have contributed to the increased demand for natural and healthier beverage options. 
1. Growing Health Consciousness
Many people around the world have an increased desire to incorporate natural, healthy alternatives into their nutrition. Factors like aging, family history of disease, losing a loved one due to health reasons, and many other aspects may affect consumers' changes in nutritional habits.
Vitamin and supplement sales continue to grow, and consumers are increasingly seeking food and beverage options that have a positive impact on their health and well-being. The World Health Organization (WHO) has even taken to developing and implementing programs to support and promote healthier eating in public facilities, including schools. More public awareness of natural food and beverage options can influence people to change their habits. 
2. Increased Availability
As health awareness and increased demand for natural products continue to grow in various sectors, businesses are able to expand into more markets. What were once niche products found only in natural food stores are now widely available in grocery and mass-market retail channels. Not to mention, the success of these natural beverages enables businesses to explore more flavors and options that excite consumers.
For example, the prebiotic sparkling soda Poppi markets itself as a healthy, modern alternative to other sodas. It's infused with apple cider vinegar, contains healthy gut bacteria, and has a very low sugar content, making it ideal for many consumers. Additionally, Poppi comes in many different flavors and has brightly colored packaging, which appeals to the younger crowd. This naturally-derived beverage is expected to be valued at over $170 billion by 2025.
3. Shift Toward Sustainability
Alongside healthier, natural beverage options, consumers also want to see sustainable alternatives in their grocery stores. Over the last decade or so, there has been a noticeable cultural shift toward sustainability.
From ditching plastic and improving recycling options to finding biodegradable packing alternatives, it's easy to see how consumers that care about sustainability also care about food and beverage options with fewer chemicals and synthetic, artificial ingredients. 
4. Knowledge of the Effects of Added Sugar and Chemicals 
Nowadays, consumers have the ability to do their own research on food and beverage ingredients, labels, and the health effects of what they're consuming. With the rise of the internet and social media, consumers can easily learn about how excessive sugar, coloring dye, and other harmful ingredients are detrimental to their health.
Combined with the increased availability of alternative, natural options, consumers may find it easier to meet their healthy lifestyle needs by switching from things like sugary sodas to flavored sparkling waters, kombuchas or ready-to-drink teas.
Benefits of Natural Beverages
As a beverage business owner or manufacturer, you may be researching your options to expand into the natural beverages market to draw in more health-conscious consumers. If you want to better understand why your customers will find natural drink options appealing, consider the following benefits of these beverages.
1. Transparency With Ingredients
Many consumers want to know exactly what's in their ready-to-drink beverage. Some shoppers may even avoid beverages that have too many ingredients that look like chemicals or are hard to pronounce. With natural and functional beverages, consumers get more visibility into where the ingredients were sourced and where the products come from.
For example, a brand that shows they use local ingredients on their label will likely be more appealing to health and wellness buyers than a long list of dyes and artificial flavorings. 
2. Consumer Convenience
Functional, ready-to-drink beverages that are packaged and sold in stores are a convenient way for consumers to get their essential daily vitamins and nutrients without having to make a beverage themselves. For instance, buying a cold herbal tea beverage instead of using tea bags and waiting for the kettle to heat up at home is much easier and faster.
Additionally, instead of cutting up several different ingredients to make a morning smoothie and being left with dishes to clean, consumers can stock up on a fruit and veggie beverage that fits their fast-paced lifestyle. 
3. Sustainable Packaging
Consumers have been demanding sustainable packaging and products for quite some time. In fact, two-thirds of buyers say they are willing to pay more for sustainable products.
The natural food and beverage industry is no exception. Buyers want to see ready-to-drink options from natural brands that support environmental stewardship and use sustainable packaging options, including biodegradable products and recycled plastics.
4. Ethical Production Practices
Many natural drinks, like teas and cold brews, often do not contain the artificial dyes, preservatives or chemicals that other sugary beverages do. As a result, this means their production requirements may be simpler and even produce less greenhouse gas emissions during manufacturing. Natural drinks that promote healthier production methods may attract health and wellness consumers who care about where and how their beverage was bottled.
Likewise, brands that promote ethical practices during production may also gain more traction with consumers. Labels that show a brand is committed to the ethical treatment of animals, humans and the planet are ideal in this sense. On ready-to-drink beverages, claims such as "plant-based" or "fair trade" may be more supported by buyers.
Incorporate Natural Beverages Into Your Business With BevSource 
Natural beverages offer plenty of benefits for consumers, making the market appealing to many business owners and those looking to produce similar products. With the global shift toward health consciousness and consumers seeking healthier alternatives, however, the market can be highly competitive. At BevSource, it's our goal to help beverage businesses get their product into untapped markets through our development, sourcing, and production services.
Whether your beverage business is just starting out or looking to scale, our team has the expertise and network of industry relationships to get your product on the market efficiently and profitably. At BevSource, we manage the details and create custom solutions so you can focus on building your brand. Contact our BevSource Specialists today to see how we can help you succeed.