The RTD Beverage Boom Is Still Going Strong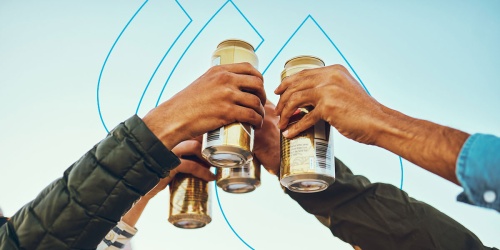 Ever since White Claw hit the alcoholic beverage market in 2016 and captured a vast audience, many other ready-to-drink brands and beverages have entered the playing field. 
The alcoholic beverage industry's RTD sector has made some serious strides. From the rise of more hard seltzer brands to port-and-tonics, canned cocktails and even nonalcoholic beverages, we'll be interested to see what innovations come next.
Understanding the current ready-to-drink beverage market and its expected changes can help your beverage brand navigate decisions around ingredients, marketing, package design and more. Read on to explore the current RTD market status and its growth projections.
What Are RTD Beverages?
Ready-to-drink (RTD) alcoholic beverages are just as they sound — prepared and packaged drinks that are ready for consumption. Some examples of RTDs include:
Hard seltzers
Hard coffees and teas
Canned cocktails
Wine coolers and spritzers
Hard ciders
Hard kombucha beverages
RTDs can be grouped into three main categories:
Malt-based: This group includes beverages that call for malt-based alcohol, like hard seltzers, hard tea and hard kombucha.
Spirits-based: The spirits-based category includes RTD cocktails, some seltzers and shooters that are spiked with spirits.
Wine-based: The wine-based RTD category includes canned wine and wine cocktails in tetra packaging.
Below, we'll explore the current market trends within these categories and how they're expected to thrive in the coming years.
Ready-to-Drink Alcohol Market Trends
If you're looking to introduce RTD beverages to your product line or upgrade your current ready-to-drink category, looking at current market trends is an excellent way to guide your decisions. Let's explore the current state of the RTD beverage industry below.
1. Rise of Spirit-Based RTDs
Though malt-based RTDs occupied 91% of the U.S. RTD market, spirit-based ready-to-drink beverages increased by 53% in 2021. This was nearly double the growth of malt- and wine-based categories. Spirit-based RTDs don't show signs of slowing down, either. The volume is projected to flourish at a 33% compound annual growth in the U.S. by 2025.
2. Increase of Hard Seltzers
Hard seltzers have taken the RTD market by storm, coming in at first place and accounting for 43% of sales — followed by flavored malt beverages at 37% of the market share, spirits-based RTDs at 10.5% and wine-based RTDs at 8.9%.
Hard seltzers are often the first to come to mind when discussing RTD alcohol trends. These drinks made ripples in the flavored malt beverages (FMB) category, and for good reason — they gave health-conscious consumers a lighter, lower-calorie alternative with little to no carbs and sugar.
Aside from being favored as a relatively more nutritious FMB, hard seltzers also benefited from the increasing popularity of sparkling waters and the convenience of canned beverages. 
Hard seltzers' popularity was largely due to a growing focus on health and wellness, but growing interest in products offering more enhanced flavor profiles and a premium drinking experience also paved the road for many RTD seltzers. A prime example is High Noon, a 100-calorie blend of vodka, juice and sparkling water with no gluten or sugar.
3. Better-for-You (BFY) Beverages
As consumers continue looking for "healthier" alcoholic drinks, spirit-based RTDs are releasing naturally flavored beverages with fewer calories. Some brands have taken it a step further by adding functional ingredients and supplements to their beverages. Some examples include:
Ashwagandha
Ginseng
Tulsi
Turmeric
Rhodiola Rosea
While ready-to-drink alcohol brands can't make concrete health claims, brands can benefit from the health halo using such ingredients brings.
4. Growing Wine-Based RTDs
Though wine RTDs are currently the smallest category, wine-based RTDs in cans or tetra packaging are finding their place in the RTD market, seeing a 23.3% increase over the last year.
Similar to spirit-based cocktails, consumer demand for new flavor profiles and variety is sparking RTD wine cocktail growth. The wide success of hard seltzer brands like White Claw has also carried over into wine and spirits.
Because a hard seltzer can derive from any base, wine-based seltzers or spritzes are increasingly popular. The BFY movement also inspired many RTD wine brands to minimize alcohol, sugar and carbs.
Consumers in this RTD category are willing to experiment with new beverages, and many of them perceive cocktails as premium alcoholic drinks. For these reasons, both new and established companies have been growing their brands with wine-based cocktails. 
5. Online Ordering
The COVID-19 pandemic largely shifted drinking patterns and expanded the alcohol e-commerce sector, with online sales of drinking alcohol increasing worldwide. However, RTD online orders are expected to decrease gradually as COVID restrictions have largely decreased and bars and restaurants have largely reopened for in-person drinking.
6. NOLO Beverages
"NOLO" beverages describe low- or nonalcoholic beverage alternatives. Consumers are becoming increasingly aware of the risks that come with excessive alcohol consumption, and global campaigns geared toward limiting alcohol consumption are largely influencing their drinking habits. 
As NOLO beverages gain more traction, we continue to see beverage developers rise to the challenge with distinctive ingredients and an increased focus on quality.
7. Innovative Package Designs
Aside from the evolving flavors and natural ingredients in RTD alcoholic beverages, package design plays a significant role in the market. Beverage developers are paying close attention to the rising demand for sustainable packaging. By using recyclable materials like glass, metal and paper-based packaging, beverage brands can target a generation that values environmentally friendly practices.
A product's quality ranked highest regarding what makes the can or bottle stand out the most, while the brand's reputation and flavor selection took second place. Additionally, men are twice as likely to be swayed by bottle design than women.
Ready-to-Drink Category Forecasts
What's next in the ready-to-drink alcohol market? RTD offerings will likely continue expanding as ready-to-drink brands seek out functional ingredients, new packaging options, creative flavors, low- or no-alcohol beverages, and product wellness attributes to meet consumer demands. The global RTD market is projected to reach $141.85 billion by 2029.
The ready-to-drink category is transforming at a rapid pace as products like kombuchas, coffees, sodas, hard seltzers and teas find a foothold in the market. All things considered, RTD is a relatively new category finding its niche, so it's essentially fair game for any beverage brand looking to get its foot in the door.
Contact a BevSource Specialist to Start Building Your Beverage Brand
Taking inspiration from current beverage industry trends can help you adjust your products, drink packaging and marketing as needed to meet your customers' wants and needs. When you collaborate with an experienced drink developer and producer like BevSource, we can help transform your visions into successful products.
From development and formulation to drink production, we'll handle every step of the process before showing you the final result, ensuring you feel confident that it fully meets your expectations.
Whether you're new to the industry or a long-time established beverage company, we can work with you to find the right components, perfect your beverage's flavor and appearance, perform stability analyses and finalize product packaging. Speak to a beverage expert today if you're interested in growing your brand with BevSource.