Examining the 9 Latest Trends in Energy Drinks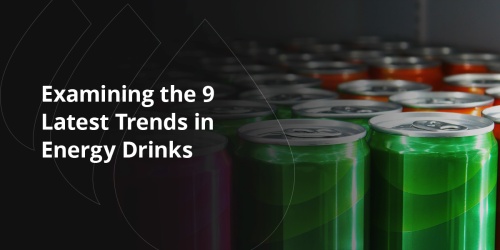 The energy drink market is evolving rapidly, driven by shifting consumer preferences and innovative new ingredients and recipes. To stay competitive, it's important to understand the latest trends in energy drinks and uncover how energy drinks are evolving. 
Understanding the Energy Drink Market
The energy drink industry involves the creation, distribution and consumption of drinks intended to boost energy and alertness. These drinks usually contain caffeine, vitamins and other ingredients for a quick energy boost. They come in carbonated and uncarbonated varieties. While not as highly regulated as other industries, energy drink manufacturers do have some regulatory responsibilities since improper or excessive use of energy drinks can have potentially harmful effects on consumers.
Many types of energy drinks are available, including low-calorie and natural options. These drinks are sold online and in supermarkets, convenience stores and specialty shops.
The energy drink market was valued at $57.4 billion in 2020, and predictions suggest it could reach $114.7 billion by 2030 — an expected annual growth rate of 7.3%. People's need for quick energy and their increasing interest in health are driving this growth. 
9 Energy Drink Market Trends
Energy drinks are about more than just giving people a quick energy boost. The concept of the energy drink is expanding to include more goals, from feeling more awake and focused to enhancing cognitive health. Consumers seek drinks that align with their needs, whether they need energy for workouts, early morning shifts or to aid gameplay performance. Understanding the following trends is vital for developing new products, enhancing existing ones and planning effective marketing.
1. Functional Energy Drinks
Consumers are increasingly looking for energy drinks that offer more than just an energy boost. Functional energy drinks are infused with additional ingredients that offer specific benefits, such as improved focus, cognitive function, hydration or athletic performance. Their goal is to support consumers' health goals and complement a healthy, active lifestyle.
2. Clinically Backed Ingredients
The energy drink market is increasingly embracing scientifically supported ingredients to cater to specific energy needs. Companies like OmniActive are finding research-backed energy options to fuel their products, such as AmaTea® Max. AmaTea® Max, created by Applied Food Sciences (AFS), is an organic guayusa extract that provides premium energy from caffeine. According to their recently published studies — including a first-of-its-kind gaming study with the University of Memphis College of Health Sciences — it was shown to increase stamina and provide energy without jitters. 
3. Cognitive Improvement
There is a growing trend in the energy drink market for products that are marketed as being beneficial for cognitive health. These products are typically formulated with Nootropics, a class of ingredients that can improve cognitive function. 
Common examples include caffeine and L-Theanine, but energy drink brands may also choose to use clinically backed ingredients such as Kyowa's Cognizin® Citicoline, a brain health nutrient, bolsters mental energy, focus, attention and recall. It is manufactured through an innovative fermentation process and is allergen-free. 
4. Energy Without the Jitters
Consumers across age groups are prioritizing energy drinks that boost their energy levels without delivering potential negative side effects such as restlessness and anxiety. Ingredients like AmaTea® Max and L-theanine can provide energy without inducing jitters.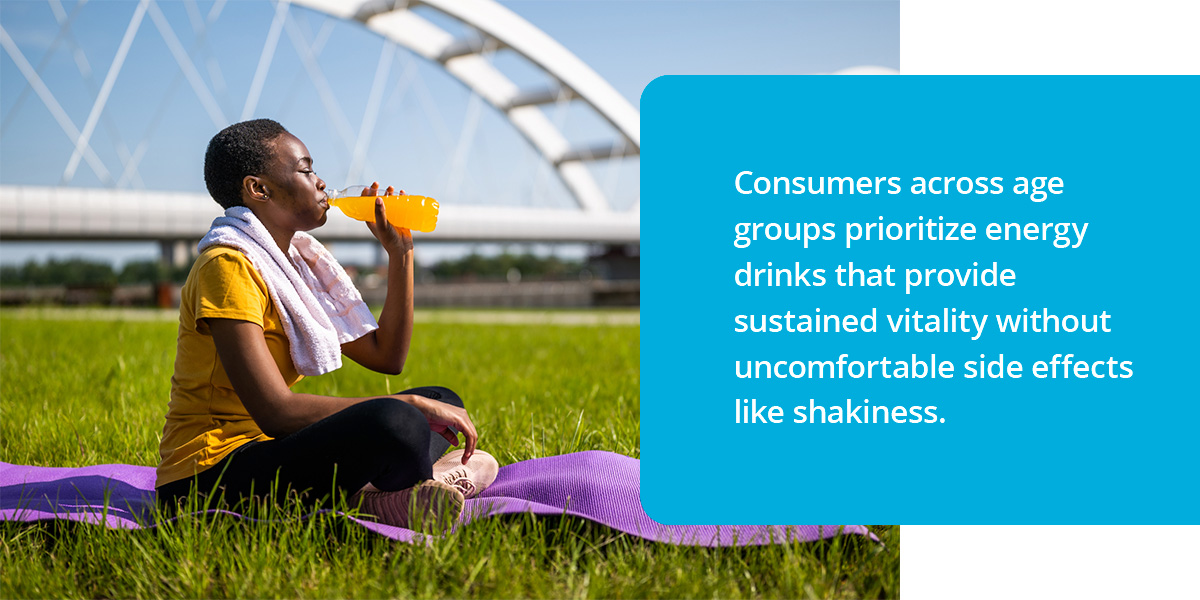 5. Emphasis on Clean Energy
In response to consumer demand for healthier options, the energy drink industry is placing a strong emphasis on clean energy beverages. These beverages are crafted with naturally sourced ingredients and are free from artificial sweeteners, synthetic colors and other additives commonly found in traditional energy drinks. 
Clean energy drinks are gaining popularity because they typically have lower sugar content and may also incorporate additional ingredients that provide specific health benefits, such as enhanced focus, improved cognitive function or better athletic performance.
6. Expanding the Consumer Base
Traditionally, energy drinks have primarily targeted a specific segment of consumers. However, the new generation of energy drinks is evolving to meet a wider range of consumer needs. By adding functionality, providing natural options, and targeting specific occasions, energy drinks are now appealing to a broader demographic audience.
7. Focus on Sports Nutrition and Performance Enhancement
Sports nutrition is another area of expansion for energy drinks, with more energy drink brands adding performance and recovery ingredients such as BCAAs, creatine and electrolytes. While not the same as sports drinks, energy drinks can provide many of the same benefits, leading energy drink companies to market toward individuals seeking physical performance optimization. 
8. Gaming-Driven Formulations
The booming eSports culture has sparked a trend of energy drinks formulated for gamers. These drinks feature ingredients to enhance focus, reaction time and cognitive support. The absence of sugar and the promise of sustained energy without crashes are key selling points resonating with the gaming community.
9. Expanding Flavor Horizons
While lemon, lime, orange and berry flavors have long been favorites among traditional energy drink consumers, a new trend is emerging in the industry. Energy drink brands, both established and new, are using flavors as a means of differentiating themselves and catering to more adventurous palates. Even industry giants like Red Bull and Monster are experimenting with exciting new flavor combinations.
The Rise of Healthier and More Functional Energy Drinks
The energy drink landscape is undergoing a significant transformation, driven by evolving consumer preferences and a growing demand for healthier, more functional beverages. While traditional giants like Red Bull and Monster have maintained their presence, it's essential to distinguish between the largest and fastest-growing energy drinks.
In recent years, the most substantial growth has been observed among newer entrants that prioritize health-conscious features, added functionality and innovative ingredients. These brands are resonating with consumers who seek energy drinks that align with their well-being and lifestyle choices.
For context, in 2022, the energy drink market experienced shifts in market share and product offerings. Among the top five energy drink brands, only Celsius demonstrated significant growth — showcasing the trend toward health-conscious options. Traditional energy drink brands like Red Bull and Monster faced challenges as consumers increasingly turned to beverages that offered additional benefits beyond a simple energy boost.
This shift in consumer preference has led to a surge in energy drinks designed with health-conscious features, such as zero-calorie options, added vitamins, reduced caffeine content and innovative health additives. These innovative, better-for-you (BFY) brands are driving growth within the energy drink category, responding to the demand for beverages that cater to specific health goals and lifestyles.
As the industry continues to evolve, it's evident that the most successful energy drink companies are those that adapt to these changing consumer preferences and embrace wider trends like wellness. The future of energy drinks lies in providing not just a quick energy boost but also added functionality and health benefits, aligning with the evolving needs of consumers.
Succeed With BevSource
As the energy drink market continues to evolve, our experts are here to guide you through the latest energy drink trends and innovations. BevSource is your ultimate partner in transforming beverage concepts into successful products. We believe comprehensive services give brands the tools they need to flourish in the ever-changing beverage industry. Whether you're looking to formulate, develop or source ingredients for your energy drink, the experts at BevSource can help you find a solution or connect you to suppliers. 
Trust BevSource to bring your beverage vision to life. Let's talk about your needs and goals. You can start now and take the first steps.