Exploring the Latest Healthy CSD Beverage Trends
The carbonated soft drinks (CSDs) industry is reshaping as consumer preferences shift toward healthier choices. Instead of CSDs that offer sweetness and fizz, health-conscious consumers are looking for flavorful innovation that balances taste and wellness.
One emerging trend is healthy CSDs. These healthier alternatives offer lower sugar content and more natural ingredients for a carbonated drink option that many consumers feel better about buying. Healthy CSD purchases are rapidly rising, making it a great opportunity for innovation.
Whether you're an existing beverage business aiming to stay ahead of the curve, or an early-stage entrepreneur ready to break into the market, staying on top of CSD industry trends allows you to meet changing consumer needs while giving you an edge over the competition.
Trend 1: Natural Flavors and Ingredients
Taste is the primary driving factor behind healthy CSD purchases, with many consumers trends showing a preference for CSDs with natural ingredients and flavors derived from plants or fruits. Beverages made with natural, recognizable ingredients are gaining popularity as people look for cleaner beverage options. Today, health-conscious consumers want CSDs with natural flavors derived from plants and fruits and fewer artificial additives and overly processed ingredients
Natural fruity flavors are a top choice for many consumers as seen in examples like blueberry-infused sparkling water or a blend of ginger and lime in a craft soda. Brands can explore many options like cucumber-mint, pomegranate-rosemary and passionfruit-guava.
Beyond taste, there are potential benefits to using plant-derived flavors and ingredients. In today's beverage landscape, consumers prioritize natural ingredients over artificial additives, believing they contribute to healthier choices. They also seek CSDs with added benefits like vitamins and minerals, signaling a growing interest in beverages that promote well-being.
The appeal of natural flavors and ingredients extends beyond their nutritional value. Natural flavors can give CSDs a depth of taste that artificial counterparts have difficulty replicating.
As trends evolve in the CSD beverage industry, focusing on innovative natural flavors and ingredients is a step in the right direction. This trend can cater to consumers' focus on wellness while paving the way for developing high-demand beverages.
Trend 2: Low-Sugar and Low-Calorie Options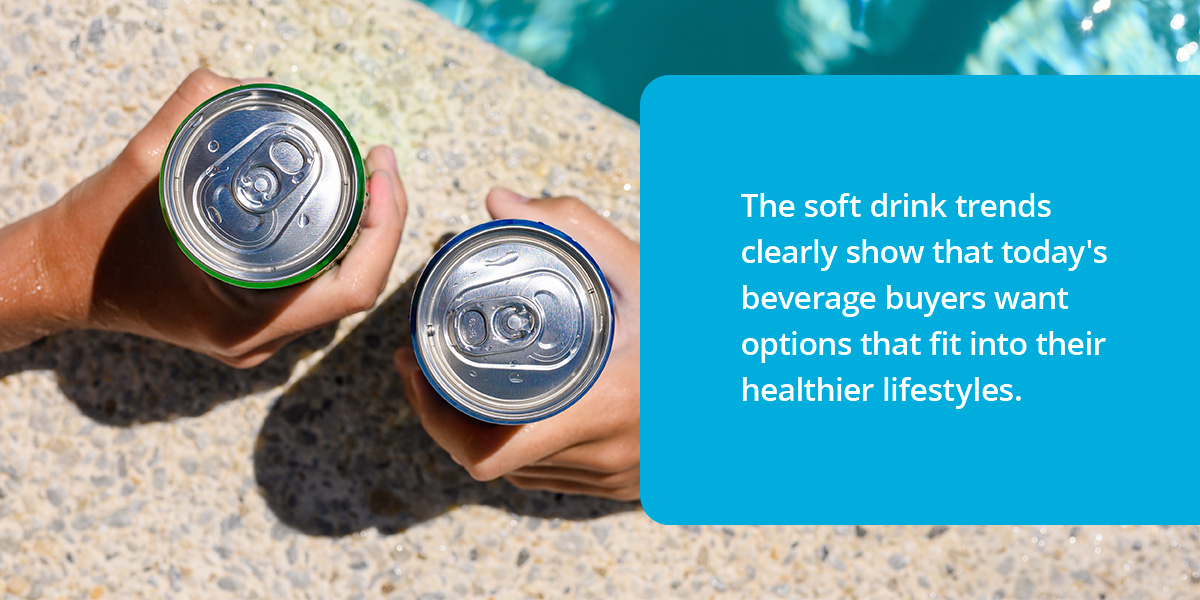 Health-conscious consumers opt for CSDs with reduced sugar and fewer calories. Brands are responding by offering beverages with natural sweeteners and alternative flavor profiles that satisfy taste preferences without the excess sugar.
As consumers become more informed about the impact of their dietary choices, they want options that align with their wellness goals. This change has led to a surge in demand for CSDs with reduced sugar content and low-calorie or zero-calorie options. The soft drink trends clearly show that today's beverage buyers want options that fit into their healthier lifestyles.
The evolution from high-sugar to low-sugar and low-calorie CSDs showcases the industry's commitment to meeting consumer demands. Even many legacy brands are reformulating their recipes to achieve unique taste profiles while drastically reducing sugar content.
Part of this shift is the incorporation of natural sweeteners and sugar substitutes that deliver sweetness without the sugar spike. Ingredients like stevia, monk fruit and erythritol have become top choices for healthier beverage options. These alternatives can offer a naturally derived sweetness and cater to consumers with specific dietary needs, without raising calories.
Maintaining the familiar flavors of traditional CSDs while reducing sugar and calories presents a unique challenge. The industry is solving these challenges by balancing taste and healthfulness through innovative formulations and the use of natural ingredients.
Trend 3: Functional and Fortified Ingredients
CSDs that offer added functionality are becoming more popular. Functional CSDs are beverages designed with a purpose beyond hydration. These beverages are formulated with vitamins, minerals, antioxidants and adaptogens. This trend is in response to the growing health-conscious preferences of consumers who want more from their beverages than simply taste.
These ingredients are carefully chosen for their potential to support overall well-being. From antioxidants to prebiotics and probiotics, these functional elements resonate strongly with health-conscious consumers. Notably, brands like OLIPOP, poppi and others are making significant waves in the CSD category.
Another component of functional ingredients is adaptogens, which are natural compounds that help the body adapt to stress and restore balance. Including adaptogens like ginseng, ashwagandha and holy basil in CSDs appeals to those who prefer holistic wellness solutions.
Functional CSDs can potentially offer a boost of energy, enhance mental clarity, support immunity or promote relaxation — leveraging ingredients hat help consumers target specific immediate or long-term health goals and offering a healthy, convenient alternative to traditional sodas.
As beverage brands navigate the latest trends in the industry, CSD options that feature functional ingredients are meeting customers' preferences and disrupting the soft drink status quo.
Trend 4: Sustainable Consumption
An increasing number of consumers want to practice more sustainable buying habits, including knowing where each ingredient in a CSD comes from and whether a beverage brand is focused on sustainability.
CSDs that offer complete transparency into the production process have become a leading choice. People can enjoy a beverage with the peace of mind that the brand is working toward environmental goals. Adding a clean label can help instill greater confidence in the sustainability of your products and make buyers feel more compelled to choose your brand over the competition.
Why Work With BevSource?
At BevSource, we work to take your CSD from concept to reality. When you partner with us, you get access to a variety of benefits, including:
Years of innovation, procurement and operational expertise.
An industry-leading network of relationships to take your product to market efficiently.
Accurate insights into the supply chain so you can see how decisions made today may impact your business tomorrow.
Creative problem-solving that allows us to embrace and work past every challenge.
Scale Your Beverage Brand With BevSource
The CSD beverage industry is seeing major shifts toward healthy trends such as natural flavors, low-sugar formulations and functional ingredients, driven by consumer demand for better choices.
Beverage businesses and entrepreneurs alike have the opportunity to develop beverages that embody both taste and wellness. By working with BevSource, you gain access to our expertise and an unmatched network to help scale your brand.
Get in touch with a beverage development specialist today.